Geely recharges the fortunes of London's iconic black cabs
Electric versions of capital's famous taxis play a part in creating a greener environment
Black cabs are London icons, just like landmarks such as Big Ben and Tower Bridge, but visitors to the UK capital may not realize that the latest versions of the taxis are zero-emission electric vehicles that use the most modern technology, thanks to the investment of Geely, the Chinese company that owns the London Taxi Co.
Since Geely bought the brand four years ago, the parent company has invested more than £325 million ($416 million; 382.7 million euros) in helping the British automotive manufacturer upgrade its production capacity. In March, the company unveiled a new factory in Coventry dedicated to making electric cabs.
"This plant, and the related investment, is just one symbol of my own and the wider Chinese confidence in the UK," says Li Shufu, chairman of Geely, who adds that he greatly values the United Kingdom as a "hub for innovation in new energy technology, for manufacturing expertise and for skills", despite uncertainty around the UK's decision to leave the European Union.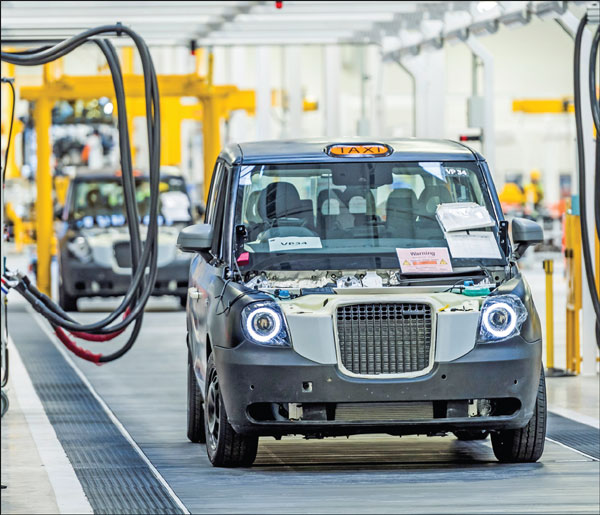 London Taxi Company makes electric taxis in its newly opened factory in Coventry. Provided to China Daily
"We will deliver these vehicles first to London, to show the world that one of its most complex, congested and challenging cities is at the head of this great change," Li says.
The new factory marks a significant chapter in the story of the London Taxi Co. With a goal of producing 5,000 vehicles a year by 2019, and a total annual capacity of more than 20,000 vehicles, the factory offers a sizable increase in current sales of about 2,000 vehicles a year. In time, the new factory is set to create an additional 1,000 jobs, including 200 engineers and 30 apprenticeships.
What motivated Geely to invest so heavily in the production of electric taxis, perhaps, is its determination to create "the best ultra-low emission commercial vehicles in the world". To achieve this end, Geely has incorporated electric power train system technology into the taxis acquired from its subsidiary Volvo, the Swedish carmaker it bought in 2010.
Such an environmentally friendly drive is understandably a priority, given that China's pollution situation has prompted many car brands to increasingly adopt to stricter emissions standards, often not only because of government requirements, but also because carmakers are aware of the consequences of pollution.
"Cities remain the bedrock of global economic growth and development and the combined congestion and pollution crisis threatens their very viability," Li says. "We all have a responsibility to think in an innovative way to tackle these issues. It is no longer good enough to just leave the task to our governments; the carmakers have a critical role to play."
The green electric taxis will be sold in London toward the end of this year and become available on the international market in 2018. With an exterior similar to the iconic black cab design, the electric taxis have many of the famed black cab's signature functions, such as wheelchair access.
The cost of an electric cab has not yet been disclosed. The current diesel version sells for £42,000.
Hangzhou-based Geely is a rising star in the automobile world and grew from humble origins. Li founded Geely in 1986 as a refrigerator maker, using money he had borrowed from his family. The company moved toward the mid-1990s when it started manufacturing motorcycles.
In 1998, it began small van production, and in 2002, began car production. Its success in carmaking led to it being publicly listed on the Hong Kong Stock Exchange in 2004.
Geely's international expansion was perhaps helped by the financial crisis in 2008, which prompted the United States company Ford to consider selling struggling Volvo. Two years later, Geely's acquisition of Volvo was complete.
The company's UK expansion was a different story, with the London Taxi Co reaching out to China for a partner in 2006. The taxi company was founded in 1899 as Manganese Bronze. In 2005, the Birmingham-based car manufacturer MG Rover went into administration, creating a major problem for Manganese Bronze because it relied heavily on MG Rover components.
Luckily, Manganese Bronze found Geely and very quickly established a joint venture to create a factory in Shanghai to manufacture its TX4 taxis. The success of the joint venture eventually led to Geely buying Manganese Bronze in 2013, when the company went into administration. Geely then renamed the enterprise the London Taxi Co.
According to the company, the black cabs account for 84 percent of London's taxis. Other players, including Nissan and Mercedes, manufacture taxis, but their inability to use the black cabs' exterior design is one key element holding back their popularity.
"The London Taxi Company significantly lacked investment before the Geely takeover, despite its iconic brand. Geely's investment since the takeover led to the launch of a new Euro 6 diesel taxi," says Wil Barber, a spokesman for London Taxi Co.
As well as extra investment, Geely has contributed the ability to sell the black cabs to other international markets, such as Australia and Azerbaijan, Barber says.
"Previously, the company was too inward-focused, mainly relying on the London market, and Geely's contribution helped us to change that," he says.
The launch of Geely's TX5 electric taxi comes at a time when the British government is investing heavily in greening the capital. New policies mean all taxis made from January 2018 and used in London must be capable of zero emissions.
In addition, the UK's Department of Transport is investing £64 million in promoting the use of electric taxis, which includes a £50 million Plug-in Taxi Grant program, with subsidies of up to £7,500 off the purchase price of a new vehicle, and a £14 million investment for new dedicated charging points for electric taxis in 10 council areas.
With a lightweight aluminum body, composite paneling, a range-extending battery-electric propulsion system and a small gasoline engine that is used as a generator, the black cabs can be driven for a day without needing to be recharged.
Manufacturing is done entirely at LTC's factory in Coventry, while the design work was carried out at Geely's design center in Barcelona, Spain.
Geely's success comes at a time when surging Chinese automotive companies are tapping into the UK's electric vehicle market for research and sales.
Last year, BYD rolled out 51 all-electric buses in London, Europe's largest fleet of pure electric buses. It is estimated that the fleet will reduce London's CO2 emissions by 700 metric tons a year. Meanwhile, Changan Automobile is carrying out electric car research from its R&D center in Birmingham and FAW Group is conducting electric car research in partnership with the University of Nottingham.
Despite the rosy picture that Geely paints for electric taxis, profit margins could be threatened by Brexit, which may lead to taxes on UK exports to Europe, says Felipe Munoz, global automotive analyst at JATO.
Munoz says increasingly strict regulation of emissions globally could create an international demand for LTC's electric taxis but emerging technology, such as self-driving cars and the growing popularity of Uber, will have an impact on the taxi market.
"It seems the new electric London cabs from Geely don't consider these trends," Munoz says.
But London Taxi Co remains optimistic that its legacy as an iconic brand will help it withstand future challenges.
"It's so well-known and well-loved, and visitors from all around the world come to London to see these iconic vehicles. It is hard for other businesses to replace the role black cabs play," Barber says.
cecily.liu@mail.chinadailyuk.com