China and Denmark adopt work plan
Pacts on food and drug regulations are among the documents signed
China and Denmark will strengthen cooperation in areas such as fishing, agriculture, food safety and drug regulations through a new collaborative work plan for the next three years, which is expected to bring the two countries' relationship to a new level.
Premier Li Keqiang and Prime Minister Lars Loekke Rasmussen of Denmark agreed to the joint work plan for their two nations from 2017 to 2020 during their meeting in Beijing on May 3.
The plan details the road map and timetable for further cooperation.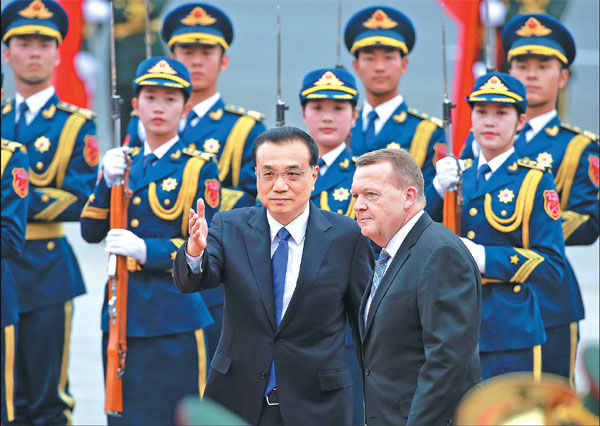 Premier Li Keqiang guides Danish Prime Minister Lars Loekke Rasmussen at an inspection of the People's Liberation Army Honor Guard outside the East Gate of the Great Hall of the People in Tian'anmen Square on May 2. Feng Yongbin / China Daily
Rasmussen was making the first official visit by a Danish prime minister since the two countries established a comprehensive strategic partnership in 2008.
Li said he believes China and Denmark have great potential for further cooperation. And, since next year will mark the 10th anniversary of the comprehensive strategic partnership, China is willing to use this opportunity to explore more cooperation between the two countries. Denmark is the first Nordic country to sign such an agreement with China.
Li emphasized that China also is willing to work with Denmark in dealing with regional issues and international affairs while promoting free trade and investment convenience.
Rasmussen praised China's rapid development since his last visit in 2010 and said China has shown increasing leadership on important global issues such as climate change.
He expressed his willingness to fully implement the three-year work plan between the two countries and said Denmark, a firm supporter of free trade, warmly welcomes investment from Chinese companies.
He also said that Denmark, as a member of the European Union, will promote the bilateral investment treaty between China and the EU to deepen relations.
After the meeting, Li and Rasmussen witnessed the signing of six documents on food and drug regulations, quarantine and sanitary requirements and giant panda protection, among others.
Liu Weimin, deputy director of the Department of European Affairs at the Ministry of Foreign Affairs, says the two leaders had long and candid discussions on promoting free trade amid increasing trade protectionism worldwide. He says Li emphasized that free trade benefits all countries and contributes to global peace and stability as well as the recovery of the global economy, while trade protectionism serves no one's interests.
Liu says the two leaders agreed to send strong signals to promote free trade and globalization in the upcoming China-EU Leaders' Meeting.
Liu says both countries would work to enhance cooperation and, since 2017 is the year of tourism between China and Denmark, the first such activity between Chine and an EU country, steps to increase tourism were part of the discussion between the leaders on May 3.
China remains Denmark's largest trade partner in Asia, with bilateral trade reaching more than 110 billion Danish kroner ($16.1 billion; 14.8 billion euros; £12.5 billion) a year, according to Denmark's statistics.
zhangyue@chinadaily.com.cn