It's official: Harry Potter play a blessing
Theatre-based sequel to the magical novel and film franchise energizes critics and fans alike, earning record Olivier wins and box office receipts
So, Harry Potter and the Cursed Child has gone and done it: nine Olivier Awards, a record, more than any previous play, more even than any previous musical. Wow.
This was a monster haul of statuettes fit for a $25 billion franchise which refuses to loosen its grip on the public imagination, and has yet to let down its millions of fans.
In the wake of a global publishing phenomenon and eight films that have, worldwide, grossed even more than the Star Wars saga, Harry Potter's move to the stage was a colossal coup for the West End - and a high-risk venture too.
Taking the story one generation on, and bringing beloved characters within gasping, almost grasping distance of ordinary muggles while introducing new ones too, sounded amazing but was fraught with perils.
If the record-busting box-office figures confirmed immediately what a wizard idea it was in a commercial sense, this historic Olivier win attests - just as much as the critical raves, my own included - to the fact that here is a piece of work which is up there with the very best in terms of quality.
Of course, the Oliviers being a theatre industry event, with an eye on promoting the goods, such a ringing endorsement can't help but create an additional fillip of excitement, maybe even generate extra sales from those who, thus far, have remained unpersuaded that this is a theatrical event few can afford to miss.
The message: dream big
Yet it principally sends out the message to the theatre-makers at home and abroad: dare to dream the impossible. A huge cast, two-part story, fiendish live illusions, demanding fanbase? You can make it happen. Fretting that digital rivals are going to eclipse theatre's value as an artform? Don't.
What's striking about Cursed Child is that for all its choreographed wonder, its epic scale and trickery, its success lies in harnessing its audiences' imagination; it casts the age-old spell of good story-telling.
There will be those who sneer that Cursed Child is now The Mousetrap of the 21st century. The show will obviously run, and run (Nica Burns, chief executive of Nimax, who own the Palace Theatre, tells me she cannot conceive of booking any other show into that venue in her lifetime). It may even be the case that generations to come only discover who Sir Laurence Olivier was on the back of these awards - that's how far into the future we can now gaze in terms of its longevity.
Yet whereas The Mousetrap feels like a dusty relic, conjuring a sense of a creative cul-de-sac, Harry Potter (whose secrets could actually be revealed, without spoiling its essential enjoyment factor) looks set to serve as a Peter Pan figure, brimming with youthful promise, forever pointing the adventurous way forward to creating "event theatre" of an ambitious new order. Bravo.
An awards caveat
All that said, may I pause - mid-applause for all concerned - to note that Cursed Child could have swept into a league of its own with just eight awards. Much as I admired Jamie Parker's performance as the older, care-worn Harry, he was up against Sir Ian McKellen, impeccable as Spooner in Pinter's No Man's Land.
The last time Sir Ian was rewarded with an Olivier for a performance was in 1993 (there was a special award in 2006). Wouldn't it have been nice to salute him once more? And likewise, could the judges not have decided to let age elbow youth aside on one further occasion and acknowledge Glenda Jackson's incredible return to the stage in King Lear, however much Billie Piper triumphed in Yerma? This was a weekend that began on a note of sadness - with news of the untimely death of Tim Pigott-Smith, the latter pipped to an Olivier for Best Actor in 2015 by Mark Strong (in A View from the Bridge). Never mind "Expelliarmus!", when it comes to venerable actors getting the plaudits they deserve, I'd say err on the side of "Carpe diem".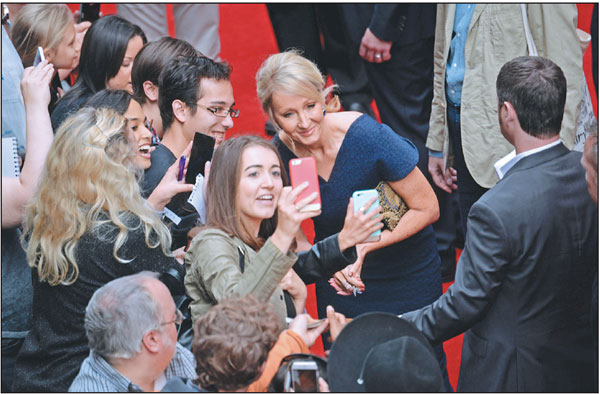 J.K. Rowling at the London premiere of Harry Potter and the Cursed Child on July 31, 2016.Steve Finn / Splashnews