Daimler continues growth via localization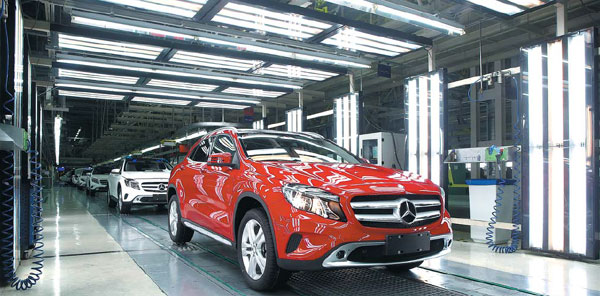 Locally produced models, including the current GLA generation, account for more than 70 percent of Mercedes-Benz's total sales in China in the first quarter of this year. Provided To China Daily
Through joint ventures in different sectors, German auto maker thrives in its world's largest market
German premium automaker Daimler AG is ready to hit the stage at this year's Shanghai Auto show, with a full lineup from its major brands and strong performances in its Chinese businesses.
The group has seen its Mercedes-Benz 2020 growth strategy pay off, both globally and here in China, as the brand retook the lead in the premium segment worldwide last year, four years ahead of schedule.
Before the show, Daimler is also bringing to Shanghai the world premiere of its new generation S-Class, with new assistance systems, new comfort features, new engines and more technological upgrades.
"As you'll see from our strong presence at this year's Auto Shanghai, we have not slackened our efforts to provide our customers here with the delightful products, services and customer experiences that truly meet their individual needs, from our flagship sedans to our exciting compact models," said Hubertus Troska, member of the Board of Management of Daimler AG, responsible for the company's operations in China.
A highlight at Auto Shanghai will be the market premiere of the new-generation GLA SUV, showcasing Daimler's efforts to meet the needs of local customers.
"We will continue to delight our Chinese customers with new ideas and great products," Troska said. "With China being one of the most important SUV markets for Mercedes-Benz, the soon coming new GLA embodies our SUV DNA in its most compact form."
The current GLA model is one of four Mercedes-Benz models produced locally. This deepening localization of research and development and production - as exemplified by last year's launch of the new E-Class long wheelbase - saw the range of locally produced models account for more than 70 percent of Mercedes-Benz's total sales in China in the first quarter of this year.
Beijing Benz Automotive Co, Daimler's local production joint venture with Chinese partner BAIC Group, was recently recognized by the renowned Factory of the Year jury in the Excellent Large Series Assembly category, serving as proof that Daimler's global production standards ensure the highest quality.
Supported by this continuous commitment to China, Mercedes-Benz passenger car sales reached a new record in the first quarter of this year, reporting 37 percent growth, year-on-year.
Local production also plays an important role in Daimler's other business units in China. Recently, Daimler extended its local new energy vehicle portfolio with the introduction of an upgraded model for the Denza, the company's pure electric vehicle from Denza New Energy Automotive.
The new Denza 400 offers an upgraded battery, electric motor and electronic control, providing an electric range of up to 400 kilometers on a full charge.
With the company's "Made in China, for China" electric vehicle, Daimler demonstrates its commitment to providing emission-free mobility solutions in China's growing new energy vehicle market.
The "Mercedes-Benz Vans goes global" growth strategy brought production of the new V-Class and Vito to the local joint venture, Fujian Benz Automotive Co, the only premium products offered in the segment.
Growth was seen in Daimler Trucks' business in China as well.
With the good performance of both chassis and tractor products, Daimler Trucks and Buses China Ltd, which imports and sells Mercedes-Benz trucks for the premium segment in China, experienced continuous growth in the first quarter.
Auman products by Daimler's joint venture Beijing Foton Daimler Automotive Co also saw sales increase by 63 percent in the first three months.
With the launch of the Chinese Truck of the Year award-winning Auman EST model in March, BFDA is expected to keep up the growth momentum.
Supporting sales of Daimler's auto brands, Mercedes-Benz Financial Services China continued to expand its customer base this year, developing more innovative financing solutions for Daimler's Chinese customers.
The company saw its net portfolio reach 69.7 billion yuan ($10.13 billion) by the end of March, with year-on-year growth of 36 percent and the penetration rate for passenger cars reaching 48 percent. In the first quarter alone, MBFS achieved about 72,500 newly signed contracts.
In new mobility solutions such as car sharing, localization has also played a big part in Daimler's strategy. This spring, Daimler merged its car sharing operations in China with local operations for the free-floating car2go service and the station-based service Car2Share, under the new car2go China, to focus on better serving the needs of local consumers.
Now operating in seven cities across China, the combined registered users of both services exceed 250,000. On April 15, car2go celebrated its first anniversary in Chongqing.
In addition to its business success, Daimler's commitment to China also covers the group's dedication to promoting social development of the country.
lifusheng@chinadaily.com.cn