Alibaba unit cares for parcel couriers
China's gigantic e-commerce sector is linchpinned by two crucial elements: couriers and hulking warehouses.
To attend to the wellbeing of the first - the express deliverymen - Alibaba Group Holdings Ltd unit Cainiao Network Technology Co Ltd, the nation's first technology-driven logistics network, has launched a free physical examination program for employees at six leading couriers.
By working in partnership with Ali Health, an Alibaba subsidiary on online medical services, and iKang Healthcare Group, a leading physical examination institution, Cainiao said it provides in-depth checkups for deliverymen, with a special focus on occupational diseases, such as a stomach illness, back injury and kidney function tests.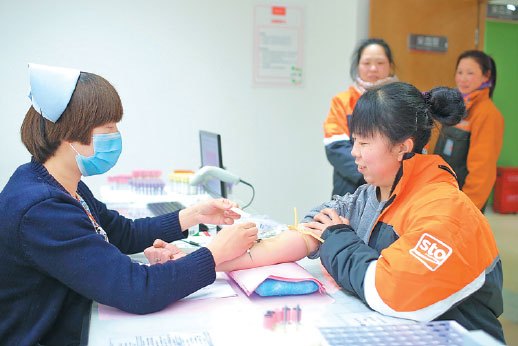 Gao Yan, 37, who works for STO Express Co Ltd, receives a free physical examination, thanks to Cainiao's initiative. Provided to China Daily
Sun Jian, deputy general manager of Cainiao's express business unit, said: "I believe it is essential to give people full respect and reduce pressure on couriers in order to bolster the sustainable and healthy development of the sector."
The examinees don't even need to go back to the hospital for the results. Instead, they could receive diagnosis from the doctors via the Taobao app.
Cainiao has assembled a network of 15 to 16 of the biggest delivery companies in the country and built a data platform that enables a speedier and more efficient service by letting couriers bundle deliveries in the same area. It now processes seven of every 10 packages delivered daily in China.
The free examination is among the many social benefits that Cainiao aims to bring. In late March it established the first e-commerce industrial park in Jinhua, Zhejiang province, to assist small to medium-sized enterprises.
The Cainiao Jinhua E-commerce Industrial Park has a 100,000 square meters construction area. The first phase of the project comprises 14 buildings, including office buildings, business and living facilities and apartments.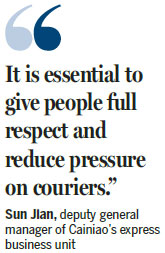 Cainiao CEO Tong Wenhong said that the industrial park will leverage the many vehicles from its parent Alibaba Group Holdings Ltd, such as Taobao, Tmall, Alipay and Alibaba Cloud, to empower these smaller merchants with various channels and resources.
Jinhua is home to over 200,000 smaller online merchants that sell 1.8 million types of products. Cainiao estimated that the number will grow at an annual rate of 60 percent.
According to Ali Institute, the research arm of Alibaba, all counties under the jurisdiction of Jinhua have been selected as the top 100 e-commerce counties in China. Among them, the cities of Yiwu and Yongkang are ranked as the top two of the 100 counties.
The Industrial Park also features a campus system - the Cainiao Management School.
For the first phase of the class, nearly 90 businesses owners are to be selected from thousands of candidates to receive professional training on new retail trends, from business-to-business, business-to-customer, to customer-to-customer and cross-border transactions.
Most of the lecturers are from the government, universities, research institutions, leading companies and the senior management team of Alibaba.
He Qi contributed to the story.
hewei@chinadaily.com.cn
(China Daily 04/13/2017 page18)