Electric series plugging into China market
Formula E eyes new Shanghai race as sponsors aim to boost profile
Formula E, the street-racing series for electric vehicles, looks set to expand its Chinese calendar as sponsors seek a bigger slice of the world's largest car market.
The championship staged its inaugural race in Beijing in 2014 and returned the following year. It kicked off the current campaign by debuting in Hong Kong in November.
Now the series wants to include a third Chinese stop, with Shanghai very much in the running after "really positive" talks between Formula E CEO Alejandro Agag, the city's vice-mayor and prospective local partners last month.
"China is a key market that we really want to focus on and develop," said Agag.
"Electric cars are being developed a lot and becoming a lot more mainstream in China. Our mission is to promote electric cars, so we are here to see how we can expand Formula E in this country and attract a larger Chinese fan base."
While Agag described last year's Hong Kong race as "a big success" and said Formula E will return, a second race on the mainland is a priority, with many of the participating automakers keen to maximize their exposure.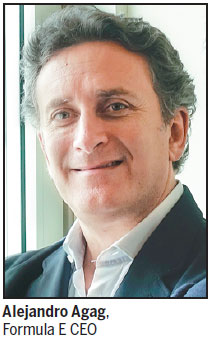 The fourth race of Formula E's third season hit Mexico City on April 1 and saw ABT Schaeffler Audi Sport team's Lucas di Grassi notch a dramatic win.
Jean-Eric Vergne of China's Team Techeetah's was runner-up, just as he was in the previous race in Buenos Aires.
A new entry this season, Techeetah was founded by Chinese sports marketing company SECA following the acquisition of the former Team Aguri last July.
As the series gains traction, it is showcasing more Chinese flavor.
Racing as Team UK this term, NextEV NIO, a startup founded by Chinese internet entrepreneur William Li, started off as Team China Racing and carried Nelson Piquet Jr to the inaugural drivers' championship.
Faraday Future, an American startup backed by Chinese internet firm LeEco, partners with Dragon Racing.
What's more, Chinese partners are the third largest shareholder of Formula E, owning a stake of above 10 percent, according to Agag.
In February, CMC Capital Partners, parent company of SECA, announced a long-term multi-million-dollar investment into Formula E.
"It gives a strong signal that China is really betting on electric cars and electrification to realize clean mobility," said Agag.
"The more we can do to help with this change in China, the better. That's why we are so committed to China.
Electric vehicles are an obvious way of alleviating air pollution, so the Chinese government provides subsidies to EV manufacturers and consumers.
"China's EV market will be the biggest in the world very shortly," Nick Sampson, vice-president of research and development at Faraday Future, told China Daily at the race in Mexico City.
"The great thing for China at the present time is that it hasn't got so many vehicles on the road yet.
"So, while the US needs to replace a massive number of road cars with electric vehicles, China just needs to persuade people who haven't had a car to go with an electric one as the best choice."
Some of the existing EV technologies in China are basic, according to Sampson, and Formula E is a great platform for manufacturers to test and improve them.
But at this point, China-based EV manufacturers are conspicuously absent from the list of Formula E's constructors.
Despite being Chinese-backed, NextEV NIO and Faraday Future don't hold licenses as EV manufacturers in China.
"It's a little disappointing to see that the licensed EV manufacturers in China haven't taken advantage of the opportunity to test their technology on the front," Ivan Yim, managing director of Techeetah, told China Daily.
"It would be good to see at least one or two of them participating in the series because motor racing is a very good platform for them to demonstrate their technology.
"They can evolve season by season through testing their technology on the race track and then transfer it to street cars."
xujingxi@chinadaily.com.cn
(China Daily 04/12/2017 page23)