Xi: 'A thousand reasons' to build ties
By An Baijie in Palm Beach, Florida, and Zhang Yunbi in Beijing | China Daily | Updated: 2017-04-08 07:37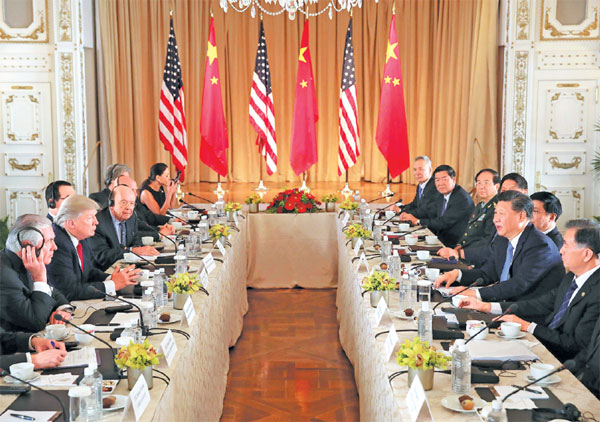 President Xi Jinping and US President Donald Trump and their delegations meet at the Mar-a-Lago resort in Palm Beach, Florida, on Friday. Carlos Barria / Reuters
He and Trump meet in Florida, agree to a new starting point
President Xi Jinping pledged in Florida on Thursday to work with US President Donald Trump to push forward China-US ties from a new starting point.
"There are a thousand reasons to make the China-US relationship a success, and not a single reason to break it," Xi said at his first meeting with Trump.
At their long-awaited meeting at the Mar-a-Lago resort in Florida, Xi invited Trump to make a state visit to China before year's end. Trump accepted the invitation and said he expects to visit at an early date.
The two leaders and their delegations met for further talks on Friday.
Xi and Trump spoke highly on Thursday of the historic progress made in the ties and agreed to push for greater development of the bilateral relationship from a new starting point, thus benefiting the peoples of both countries and the world.
Xi said that the bilateral ties, which got back on track 45 years ago, have brought enormous pragmatic benefits to the two peoples. It will require deep thinking, political resolve and historic commitments by leaders of both countries to further develop the ties in the next 45 years, he added.
Trump said the two countries shoulder great duties and should maintain contact and coordination on major issues.
He also said he looks forward to building a good working relationship with Xi and achieving greater development of US-China relations.
Regarding bilateral high-level exchanges, Xi said the two sides "should make full use of" newly established high-level dialogue mechanisms on diplomacy and security, economy, law enforcement and cybersecurity, and society and culture.
Xi called for "making the pie of cooperation bigger, stipulating lists of priority cooperation and achieving more initial outcomes".
The two countries should properly tackle sensitive issues and constructively manage and control their differences, Xi added.
On the economic front, Xi said the two nations should promote the negotiation of a bilateral investment treaty and the healthy development of two-way trade and investment.
The two countries also could explore embarking on pragmatic cooperation in areas including infrastructure construction and energy, Xi added.
The two leaders introduced to each other the priority agenda items of each side, and they exchanged views on regional hot spot issues.
Xi said the two sides should reinforce communication and coordination on major international and regional issues and jointly promote the proper addressing and settlement of such issues. They also could expand cooperation in handling global challenges such as nuclear nonproliferation and cracking down on transnational crimes, Xi said.
To jointly champion world peace, stability and prosperity, the two countries should also strengthen communication and coordination within multilateral mechanisms such as the United Nations, Group of 20 and Asia-Pacific Economic Cooperation, Xi added.
When Xi and his wife, Peng Liyuan, arrived at the resort at about 5 pm local time on Thursday, Trump and his wife, Melania, greeted them.
The two couples talked and listened as two of Trump's grandchildren sang Jasmine Flower, a traditional Chinese song. The children also recited Three-Character Primer, an original Chinese text for children's early education first compiled in the Song Dynasty (960-1279), as well as a Tang Dynasty (618-907) poem.