New BMW brand center a model of innovation and success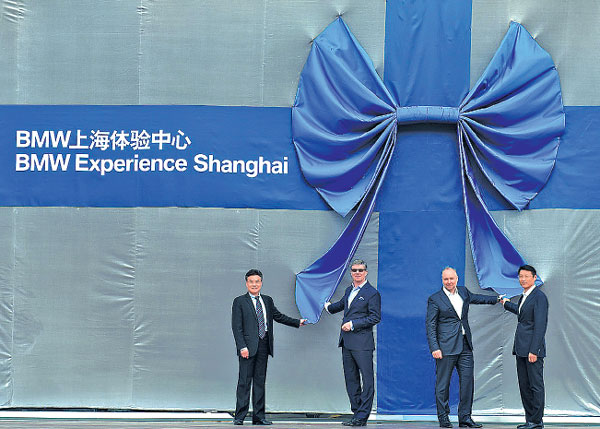 Executives at BMW China and BMW Brilliance celebrate the opening of the new experience center in Shanghai on March 25. Photos Provided to China Daily
BMW, the trendsetter in experiential branding, opened its new experience center in Shanghai to enhance the customer experience in the dynamic city.
BMW's brand heritage, dynamic driving pleasure, cultural engagement and lifestyle touches are integrated in this new home for all fans, in an expectation to demonstrate the carmaker's successful customer-centric strategy.
The iconic all-new BMW Experience Shanghai opened to visitors on Saturday, allowing them to learn about the brand's heritage, try new innovative technologies, enjoy the sheer pleasure of driving and even join the dynamic M Motorsport.
Adjacent to the China Art Museum, the center is located in the heart of the Shanghai World Expo site.
It covers an area of about 45,000 square meters, tripling its area in 2013, and consists of a 2,000-sq-m in-house brand center and a 24,000-sqm driving center.
"We have not only changed with the times, we have in many cases changed ahead of time. With the BMW Shanghai Experience we become more human-centered and inspiring. Both belong to the DNA of the BMW brand strength," said Olaf Kastner, president and CEO of BMW Group Region China, in his opening speech.
Kastner continued: "Our customers can look forward to this new experience and enjoy the BMW brand and lifestyle right here. To our Bimmer fans, you can call this place your new home!"
The center is expected to excite and delight the family or fellowship with its Joy Cafe serving German cuisine, but it will also focus on safety, teaching children about traffic safety.
A high-rise exclusive dining area overlooking BMW Experience Shanghai and the China Art Museum is available through reservation for private functions.
The center was designed around BMW's "customer first" philosophy, according to Jochen Goller, senior vice-president of sales and marketing at BMW Brilliance Automotive.
Goller said: "The new BMW Experience Shanghai is an engaging, fascinating and aesthetic boost to the experience of the BMW brand and lifestyle together in the heart of Shanghai."
BMW is seeking to boost brand engagement through its heritage, art cars, M motorsport, incorporation of Chinese elements, fusion food, 50 BMW cars available for test drives and more than 10 driving courses, according to Goller.
He noted: "The all-new brand experience center will be an important touch point for us to connect with our customers and fans. We envision it to be a landmark in this culturally rich neighborhood in Shanghai.
"We will further enrich the center with more regular programs such as culture and heritage workshops and talks to inspire our customers and draw in more people."
Emotional individualization
The premium brand's individualized experiences, splendid products and memorable services make up the customer-centric strategy designed to share BMW's attitude and personality, making the company more open and human, like a friend to the customers.
Kastner said: "Being human-centered and inspiring is our focus, because this is the underlying basis of our brand strength and success."
He explained the context of the company's well-defined brand strategy, how BMW realized that emotions are the foundation of customers' attraction to premium and luxury brands, and how Chinese customers are growing increasingly sophisticated and seeking more unique and tailored experiences.
The carmaker found that customers attracted to BMW brand are now younger - at an average age of 35 - open to new things, digitally savvy and more experience-oriented. Customers expect their cars to show their personality, according to BMW's extensive research.
Goller addressed the brand's determination to address these changes in customers' demands.
He said: "We are formulating an inspiring BMW brand to provide more emotional experiences, speaking our customers' language and developing experiential activities based on their interests."
Thanks to a thorough understanding of customers' desires, the Munich-based brand was recognized as the world's most reputable company in the auto industry by Forbes this year, and has won over 3 million users in China.
The world's largest auto market saw a total of 92,045 BMW and Mini cars delivered in the first two months of 2017, a 14.7 percent increase from the same period last year.
The automaker believes the positive trend should continue in China, heated by 14 new incoming models, including the long-wheelbase versions of the new BMW 5 Series Sedan and the BMW X1.
Local production of the new BMW 1 Series Sedan for the Chinese market ramped up earlier this year and will provide additional impetus for growth, beyond the expansion of its sub-brands, including BMW i for e-mobility and BMW M for motorsport.
haoyan@chinadaily.com.cn
Highlights of BMW Experience Shanghai
Covering an area of about 45,000 square meters, triple its area in 2013.
Consisting of a 2,000-sq-m brand center and a 24,000-sq-m driving center.
Driving center features a core driving zone, urban off-road park, and multifunctional experience center.
Authorized goods offered in the BMW Lifestyle shop.
Authenticated German cuisine provided by renowed Kofler & Kopanie in Joy Cafe.
Brand engagement through heritage displays, art cars, M motorsport.
Cultural engagement through Chinese elements, fan connections and fusion food.
Driving engagement through 50+ BMW cars available for test drive, 10+ driving courses.