Young talent seen as future of soccer
With massive spending on foreign stars by Chinese soccer clubs impressing the world, insiders have called for more focus on the cultivation of young talent to breed the country's own counterparts of Lionel Messi and Cristiano Ronaldo.
Inspired by the country's ambition to invigorate the game of soccer, 16 Chinese Super League clubs splashed out about $410 million signing foreigners during the 2016-17 winter transfer window, making the CSL the biggest spender among the world's major leagues, according to German website transfermarkt.com.
However, the spending spree has triggered concerns at home.
Business tycoon Xu Jiayin, a member of the country's top political advisory body and owner of CSL champion club Guangzhou Evergrande Taobao FC, is one of those who reflected on the long-term success of the boom.
"The investment in signing foreign players should match the overall level of the game's development in China," Xu, a member of the National Committee of the Chinese People's Political Consultative Conference, said on Thursday.
"Clubs shouldn't compete over how much they spend on foreigners but should focus more on youth programs to develop homegrown talent," Xu said.
As long as there is consistent investment and policy support for youth training, it's only a matter of time before China produces its own world-class players as competitive as Messi of Spanish league giant Barcelona and Real Madrid's Ronaldo, he added.
To curb excessive spending on player transfers while encouraging development of local talent, the Chinese Football Association has imposed a new rule allowing clubs to field a maximum of three foreigners, down from five in previous seasons.
"The mindset that only the cultivation of young talent will breed long-term success should be instilled," said Tan Jianxiang, a sports sociology professor with South China Normal University.
However, only one-third of CSL clubs have systematic youth programs with reserve teams of different ages and talent-scouting junior academies, according to observers.
Evergrande is one of the few clubs to develop young talent, as its soccer school enrolls 2,800 students, with technical support from Spanish club Real Madrid, in Qingyuan, Guangdong province.
In February, Xu claimed that Evergrande will field an all-Chinese squad in league competition by 2020, despite the fact that the club won six CSL and two AFC Champions League titles from 2010 to 2016 with help from key foreign players.
Wang Wenbiao, another member of the CPPCC National Committee, said Evergrande's vision has inspired other enterprises to invest in youth development.
China Elion Resources Group, chaired by Wang, announced on March 2 that it would sponsor CSL club Tianjin Teda and draft 1,000 junior players annually to practice at its training base in the Inner Mongolia autonomous region.
Contact the writer at sunxiaochen@chinadaily.com.cn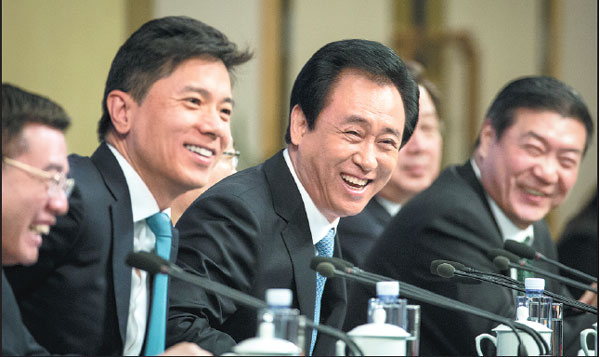 CPPCC members Xu Jiayin (center) and Wang Wenbiao (at right) attend a news conference at the fifth session of the 12th CPPCC National Committee on improving people's livelihoods in Beijing on Thursday.Kuang Linhua / China Daily