Girl, 8, gaining weight for bone marrow donation
By Zhao Ruixue in Jinan and Chen Mengwei in Beijing | China Daily Europe | Updated: 2017-02-26 15:06




Brave child endures painful tests in loving bid to save her mother's life
An 8-year-old girl is continuing to eat more in the hope of gaining enough weight to meet a medical requirement for transplanting bone marrow to her ailing mother.
Xiao Huixuan, from Shouguang, Shandong province, has gained about 5 kilograms in less than two months after she learned her bone marrow was a match for her mother, Ba Lili, who was diagnosed with leukemia in 2015.
Of all Ba's relatives, only the daughter was a suitable match. The girl, who can only donate marrow after attaining a weight of at least 30 kg, now weighs 29 kg.
After two months of bulking up, Xiao underwent bone marrow extraction on Feb 14 for tests at Peking University People's Hospital in Beijing. Because of her age, she could not be given any pain killers before the procedure.
Han Tingting, the doctor overseeing the treatment, says the test results will be available in one or two weeks.
She says there is a possibility the girl might not be able to donate if certain key test results don't meet the requirements.
"No matter what the final result is, the girl is very courageous to donate for her mother," she says.
Han said she will not do a trans-plant if the girl's body fails to meet the requirements.
Xiao says the extraction was painful.
"I tried my best not to cry because my mother would be sad if she heard me crying," she says.
Ba recalled the response of her daughter, using her pet name, Xuanxuan:
"When Xuanxuan got out of the room, she was sweating as she tried hard to endure the agony. However, she told me it was not painful. I told her to be optimistic about life, even if something wrong took place during my surgery. Xuanxuan hugged me and encouraged me to be brave," Ba says.
"Xuanxuan often gives me a mas-sage to relieve my pain and she often says, 'I love you, Mom', to boost my confidence."
Ba says she has been cared for by many kindhearted people, including doctors, nurses and strangers who have donated money.
Xiao speaks from the heart: "I will endure all of the agonies, as long as my mom can survive. I love my mom, and I have to save her."
Contact the writers at zhaoruixue@chinadaily.com.cn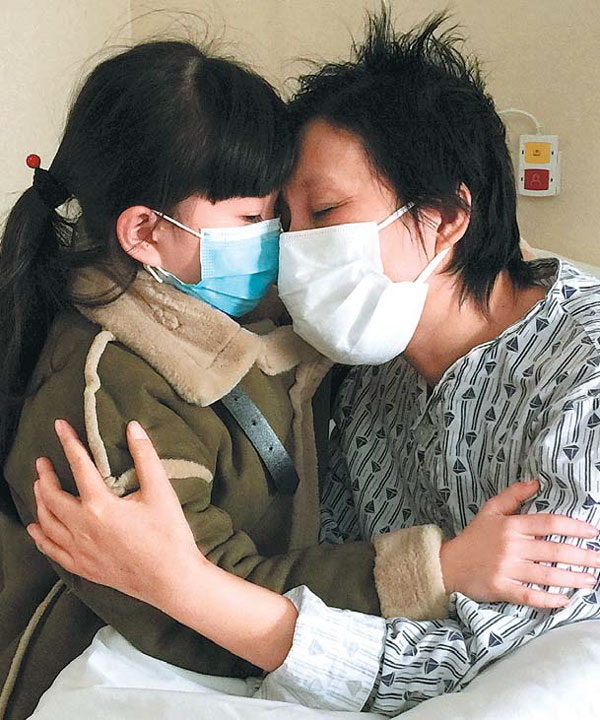 BA LILI AND HER DAUGHTER, Xiao Huixuan, comfort each other at Peking University People's Hospital in Beijing last month. Provided to China Daily