Carnival revelers hunt for bargains in crisis
Unsold tickets and fewer tourists cast shadow on world-famous street party
RIO DE JANEIRO - Instead of costly and elaborate costumes with glittering sequins, expect more cheap get-ups featuring fake mustaches, hats and tiaras at this year's Carnival.
Revelers are bargain-hunting ahead of Rio de Janeiro's world-famous party, which is about to kick off amid a prolonged economic crisis that is hurting pocketbooks and the myriad businesses that depend on the bash for a large part of their annual incomes.
Many parade tickets have not been sold, sponsors have declined to pony up for street parties and hotels are expected to be emptier than last year's also disappointing blast, when worries about the Zika virus kept some foreign tourists away and the recession depressed local spending.
"Last year was not great, but we still had the 2016 Olympics as a peg to Carnival. Now we can feel there is a reduction," said Cristina Fritsch, head of Rio's travel agents association. "Security is also making people worry at a time when public servants, including the police, are threatening to go on strike."
Rio's tourism agency is hoping to attract 1 million tourists who spend about 3 billion Brazilian reals ($950 million) in the city during the Feb 24-28 festivities. If that pans out, it would be roughly the same amount of revenue as last year.
Hotels estimate they will see only a 72 percent occupancy rate, about 14 percent less than last year.
With festivities starting on Friday, there are still 800 stand tickets for the parade, which typically sell out right after New Year's Day. Many of the box seats for the float parade, which feature local and global celebrities, have been distributed among the samba schools that put on the spectacle. Organizers say they want to make sure television cameras don't capture any empty spaces.
The backdrop is the worst recession that Latin America's largest nation has suffered in decades. Brazil's central bank estimates the country's economy shrank more than 4 percent in 2016 and unemployment is around 12 percent.
Rio's state government has felt that impact like few others, with public servants having their pay delayed for months. Violent protests have become frequent as the state legislature considers several austerity measures.
In the neighboring state of Espirito Santo earlier this month, military police went on a weeklong work stoppage that coincided with an upsurge in murders and other crimes. The fear that Rio police would stage a similar strike was so strong that resident Michel Temer has activated 9,000 soldiers to patrol in the state of Rio.
In Rio's popular commerce areas this week, stores were filled with products but light on customers. Full Carnival costumes, with prices varying between 30 reals and 3,000 reals, were not selling. Instead of glittery pieces for revelers to dress as harlequins, policemen, nurses and Wonder Women, partygoers are most concerned about finding a deal.
Homemaker Marina Hill said she bought two costumes last year but this time around will buy only one that she plans to wear every day.
"I am not spending more than 150 reals," she said. "It's not easy, but not celebrating would be even worse."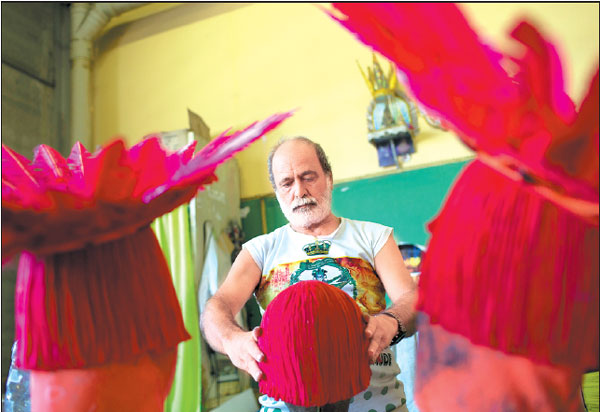 A man prepares costumes for the upcoming Carnival at the Imperatriz Leopoldinense samba school in Rio de Janeiro, Brazil. Rio's world-famous party is about to kick off amid a prolonged economic recession that is impacting locals, tourists and businesses that depend on the bash for a large part of their annual incomes.Silvia Izquierdo / Associated Press