Trump urged to reconsider ban
As a US appeals court weighs US President Donald Trump's executive order banning entry for refugees and visitors from seven mainly Muslim countries, the founder of a foundation that honors immigrants is urging Trump to rethink his policy.
Meanwhile, two of the foundation's latest recipients, both natives of China, said immigrants like themselves make important scientific contributions to the US.
Jan Vilcek, who escaped from Czechoslovakia during the Cold War and later worked on the blockbuster drug Remicade, established the Vilcek Foundation in 2000 to highlight the contributions of immigrants in the US.
"I would remind him (Trump) that his paternal grandparents and his mother were immigrants, and that much of the success of this country stems from our diversity and the fact that America is a nation of immigrants," Vilcek said.
"I would also tell him that barring the entry of innocent people because they happen to be from one of the seven predominantly Muslim countries chosen by the administration is wrong, contrary to the admirable democratic traditions and laws of the United States, harmful to the country's economic interests and competitiveness, and damaging to America's standing in the world."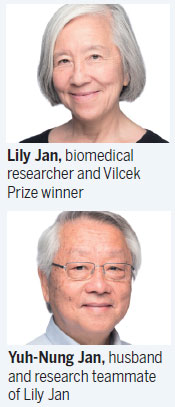 Earlier this month Vilcek's foundation announced that the Vilcek Prize in Biomedical Science will be awarded jointly to Chinese-born Lily and Yuh Nung Jan, a husband and wife research team at the University of California-San Francisco. They will share a $100,000 award and will formally accept their honors in New York in April.
The Jans are being recognized for their work in isolating the gene encoding a protein that shuttles potassium ions across cell membranes, enabling the characterization of a molecular player important to functions as vital as maintaining heart rate and controlling muscle movement.
"The ion channels we have been studying are found in many tissues such as the brain, heart, kidney, pancreas and muscle. Diseases including epilepsy, arrhythmia, hypertension, diabetes and ataxia may result from mutations of these ion channels. Dysregulation of ion channel activity may also affect cancer progression," Lily Jan said in an email.
Lily was born in Fuzhou, in East China's Fujian province, while Yuh Nung was born in Shanghai. Both were educated in Taiwan and then came to the US for graduate school.
The Jans would like Trump to reconsider his travel ban. A 2013 National Science Foundation report said one in six US scientists is an immigrant.
"Please base your decisions on facts and not 'alternative facts'. Your executive orders are misguided. They don't improve the security of the US and are likely to do more harm than good. Foreign-born people have made disproportionally large contributions to the science and the entrepreneurship in the US," said Yuh Nung in an email.
The Vilcek Prizes are selected through a nomination and deliberation process by the foundation's jury panels.
paulwelitzkin@chinadailyusa.com