Trump sends new year's greeting to Xi
By Zhao Huanxin in Washington and Zhang Yunbi in Beijing | China Daily USA | Updated: 2017-02-09 14:42




US President Donald Trump sent President Xi Jinping new year's well wishes on Wednesday, four days before the end of the most important Chinese festival.
The White House said the president had written his Chinese counterpart wishing the "Chinese people a happy Lantern Festival and prosperous Year of the Rooster".
Trump wrote Xi to thank him for a congratulatory letter and to express his hopes of developing "a constructive relationship that benefits both the United States and China", according to a briefing from the White House Office of the Press Secretary.
The Lantern Festival, which falls on Saturday this year, is a Chinese festival celebrated on the 15th day of the first month. It marks the final day of the traditional Spring Festival celebrations.
Exactly a week ago - on the fifth day of the month, also an important day during the Spring Festival, Trump's daughter, Ivanka, visited the Chinese embassy in Washington for the first time with her 5-year-old daughter, Arabella Rose Kushner, to participate in the embassy's Chinese Spring Festival celebration.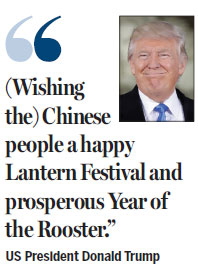 Yuan Zheng, a senior researcher on US foreign policy at the Chinese Academy of Social Sciences, noted that Trump had met or called leaders of many other major countries recently in the new year before he wrote to Xi, and the belated greeting itself will serve its purpose.
"Frankly speaking, Trump has drawn fire on himself because of domestic issues such as immigration, and he has flared hostility against him overseas," Yuan said.
At this moment, writing to Xi and pledging a "constructive" tie with Beijing showcases that stabilizing US-China ties at this difficult moment is "of greater significance" for Trump, Yuan said.
Yuan said he believed the letter is like a make-up effort. The new US president has broken the tradition of sending New Year greetings to people of Chinese origin in the US during their most important festival.
A report released by a bipartisan task force of prominent China specialists on Tuesday in Washington suggested that Trump meet with Xi early in his administration to establish a foundation for "effective communications at the highest level".
The report, US Policy Toward China: Recommendations for a New Administration by the Asia Society's Center on US-China Relations and the University of California San Diego's 21st Century China Center, also called on Trump to stick to the US' long-term standing one-China policy.