Insurance firms 'need to catch up'
Top five companies perform best in terms of CSR contribution, says report
The development of corporate social responsibility by Chinese insurance firms has not been balanced and the industry is still trying to catch up, recent research showed.
The research was jointly carried out by the China Insurance Regulatory Commission (CIRC) and the Corporate Social Responsibility Research Center of the Chinese Academy of Social Sciences.
It surveyed 137 insurance companies in China and provided analysis on the current situation of CSR among the Chinese insurance industry in terms of social responsibility management, environmental responsibility and social responsibility information disclosure.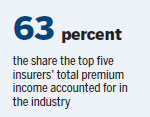 The research found that the top five insurers - with their total premium income accounting for 63 percent of the industry - scored the highest in CSR performance, an average of 54.15 points, while 90 percent of the firms scored lower than 50.
Ping An Insurance Group scored the highest, or 68.92 points, followed by the People Insurance Company Group of China and China Life Insurance Group, according to the research.
Zhong Hongwu, director of the CSR Research Center of the Chinese Academy of Social Sciences, said: "We will get a much lower result if we take the top five companies out of the equation. Among the 137 insurance companies, there was not a single one reaching the top standard."
Meanwhile, domestic insurers scored higher in their CSR performance than their foreign peers, the research showed.
Zhang Zhongning, deputy director of the CIRC's general office, said good CSR performance of insurers is directly related to their main business.
"The industry should do a good job first in the main business. The industry has shown an increasing awareness and has had a certain degree of success in CSR performance in recent years," Zhang said.
"But there is a delay in terms of the editing and publishing of CSR reports, which needs to be improved in the future," Zhang added.
Zheng Yiran contributed to this story.
lixiang@chinadaily.com.cn