Beckham battling to reclaim respect
Knighthood revelations put huge dent in icon's wholesome image
David Beckham's squeaky-clean image as a sporting and cultural icon has been severely tarnished following the leaking of expletive-strewn emails in which he raged about not receiving a knighthood.
The former England soccer captain is said to have sworn in emails to his PR team after being told he would not be dubbed "Sir David" by Queen Elizabeth because of concerns about his tax affairs.
The 41-year-old's spokesman said the emails, released by the Football Leaks website, were "hacked and doctored" to give a "deliberately inaccurate picture".
But there has been a backlash against Beckham in the British media.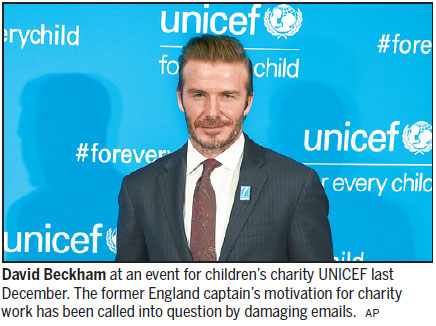 Monday's Daily Mail spoke of the "Shame of Saint Becks", with a columnist pronouncing him "a foul-mouthed, determined egotist" who had used charity work as part of an "increasingly desperate" bid for a knighthood.
Reports that emerged on Friday said the former Manchester United and Real Madrid star refused to put his own money into his humanitarian '7 Fund' and tried to obtain reimbursement from the UN children's agency UNICEF for expenses met by his sponsors.
Outspoken television host Piers Morgan told his millions of Twitter followers the revelations were "sickening" and exposed Beckham as a "fraud".
Beckham has not spoken publicly since the story broke, although he was pictured cradling his five-year-old daughter Harper on his son Brooklyn's Instagram account.
Cynics said that was a crass attempt to show his folksy fatherly side at a time of bad headlines.
High profile
For a man who takes such care of his public image, it is likely to be a deeply distressing situation.
Beckham has maintained a high profile since retiring as a player in May 2013 following a brief stint with French side Paris Saint-Germain.
He continues to carry out charity work and fronts several advertising campaigns.
He has had problems securing a stadium for the club he plans to launch in Miami, but Major League Soccer bosses recently confirmed the project is on track to become the league's 24th franchise.
Beckham has managed to shake off previous scandals, both on and off the pitch.
The former Manchester United midfielder became a national pariah after his dismissal against Argentina was blamed for England's 1998 World Cup elimination, but fought back to become his country's captain.
Reports of an extra-marital affair with his former personal assistant, Rebecca Loos, in April 2004 were dismissed and did not tarnish Beckham's image as a loving husband to pop star-turned-designer Victoria Beckham and father to their four children.
Beckham received an Order of the British Empire (OBE) from the queen in 2003, a lower honor than a knighthood.
His wife also received an OBE in the 2017 New Year Honors list despite her fashion label being threatened with closure after failing to file company accounts.
The former Spice Girls singer was criticized for telling her family she would be receiving the award before the official announcement.
Global celebrity
Born in Leytonstone, east London, Beckham was a member of the fabled "Class of 92" crop of young players who emerged at United, along with Ryan Giggs, Paul Scholes, Nicky Butt and Gary and Phil Neville.
Blessed with an extraordinarily accurate right foot, Beckham was renowned for his dead-ball prowess, stamina and workrate - as well as his ever-changing hairstyles.
He won six Premier League titles, two FA Cups and the 1999 Champions League with United, creating both injury-time goals as Alex Ferguson's side stormed back to beat Bayern Munich 2-1 in the final.
After his relationship with Ferguson deteriorated, he left Old Trafford to join the Real Madrid "Galacticos" to great fanfare in 2003, but would win only one league title in Spain.
Beckham moved to the Los Angeles Galaxy in a trailblazing transatlantic move in 2007 and won two MLS Cup titles, while also spending time on loan at European giants AC Milan and PSG.
He captained England for six years and played in three World Cups.
With 115 caps, he is England's third most-capped player behind Peter Shilton and Wayne Rooney.
Beckham's global celebrity turned him into a one-man marketing phenomenon with a glut of lucrative endorsements.
He is the face of several firms, including adidas, fashion chain H&M and Haig Whisky. His shared fortune with Victoria, dubbed "Brand Beckham", is believed to exceed $624 million.