Grand Bay a year-round destination in Beijing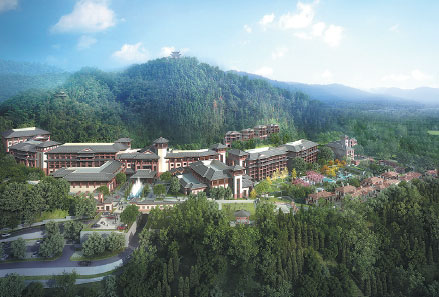 The Grand Bay Hotel Beijing, scheduled to open in early 2017, is nestled in the capital's suburban Miyun district. Provided To China Daily
Nestled in Beijing's suburban Miyun district, the Grand Bay Hotel Beijing is scheduled to open in early 2017. It recently held its inauguration ceremony.
The hotel is set to become a top year-round vacation destination, recreation center and meeting venue.
The five-star hotel has 329 guestrooms and suites, each offering spacious accommodation and scenic mountain views.
The design of the hotel combines advanced modern facilities and traditional Chinese elements, such as "auspicious clouds" and the Great Wall.
Thoughtful touches in the guestrooms include high-speed internet access, a spacious working area, a 125-centimeter flat screen LCD television, a personalized iPad control system, a Toto washlet toilet, TWG tea and L'Occitane en Provence bath and shower products.
The location of the hotel provides easy access to Miyun's natural scenic spots, including Heilongtan (Black Dragon Pool), Qingliang Gu (Cool Valley) and Nanshan Ski Resort.
Dining options at the hotel include international food, Cantonese cuisine, Northwestern Chinese noodles and local farmhouse-style dishes.
For business events and meetings, the hotel has 2,350 square meters of function room space and a 1,100-square-meter ballroom.
The kids' center, exclusive walkways and gift shop complete the aesthetics of the Grand Bay Hotel Beijing.