Destination Houston:to fight cancer
More Chinese stricken with cancer are making the trip to US hospitals for treatment not available in China, and two in Houston - the MD Anderson Cancer Center and Methodist Hospital - are providing treatment and hope for an increasing number of those patients, reports May Zhu in Houston.
One morning in September, when 6-year-old Stephen walked into a lobby, the Chinese boy was greeted by people dressed as GG Bond and Little Feifei, two of his favorite cartoon characters from Chinese TV, and given a GG Bond costume and stuffed toys.
That lobby was at the University of Texas MD Anderson Proton Therapy Center where Stephen (not his real name), who was diagnosed with Ewing's sarcoma, a rare bone cancer, had gone through proton therapy from February to June this year. He was in the hospital for a couple of days when necessary, but most of the time he was an out-patient, returning to China after completing the regiments. In September, he went back to the hospital with his parents for a checkup, and they were quite pleased with the results.
Stephen is just one of an increasing number of cancer patients who come to the US in search of better treatment, and MD Anderson Cancer Center is the most sought-after institution at the Texas Medical Center due to its top rank in cancer treatment.
Top ranking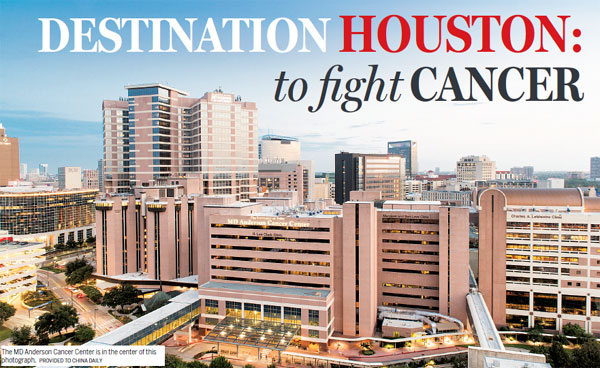 The MD Anderson Cancer Center is in the center of this photograph. Provided to CHina Daily
It was ranked the No 1 hospital for cancer in both 2015 and 2016 by US News & World Report based on four matrixes: reputation with specialists, survival. patient safety and other care-related indicators, including nurse staffing.
This year, China has become the main source of MD Anderson's international patients for the first time, according to Marth Coleman, administrative director of the hospital's International Center.
Coleman said that MD Anderson started to see a trickling in of Chinese patients at the end of the last decade. Sensing a trend change, it decided to translate its website to Chinese in 2011.
"The Chinese webpage is a major reason for so much interest in MD Anderson in China. It started the conversation with Chinese patients. At first we hired one Mandarin speaker handling inquires and some translations. Within weeks, she couldn't keep up with the work," said Coleman.
And the number of patients from China has continued to increase.
"From 2013 to 2014, Chinese patients increased by 40 percent, from 2014 to 2015, the increased rate was 46 percent. Last year we had more than 300 Chinese out of total 1,900-plus international patients. We have added at least another 100-plus Chinese patients this year," she said.
Now MD Anderson has two Chinese-language representatives to deal with Chinese inquiries and help patients understand the process. Another person works with patients from Chinese referral agencies. A Mandarin speaker was hired for a reception area.
"We probably get around 10 inquiries from China every day. There seem to be a lot of articles about MD Anderson out there. It's very common to get calls from China to confirm what they read about MD Anderson, or if this referral company is working with MD Anderson." Coleman said, adding that more often than not, the agencies in question made false statements about being its partner.
MD Anderson also receives inquiries from Chinese referral agencies hoping to represent it in China on a daily basis. "We are very careful in picking who is our partner. Currently, we only work with a couple of trusted agencies, including St. Lucia and Handsome," said Coleman.
The hospital practices a general standard guideline in patient admission by its international assessment center, explained Coleman. MD Anderson always talks to each patient directly. If a patient is in the middle of radiation or chemo, MD Anderson usually requires the patient to complete the regiment first before coming to the hospital.
"With diagnosis of cancer, there is desire to have treatment right away, but taking time to have cancer fully diagnosed and fully staged is very important because that first therapy is the best option for the best quality of treatment. Unfortunately, a significant number of patients save us for last when there are less treatment options," said Coleman.
The large presence of Chinese patients at MD Anderson is a relatively new phenomenon, but MD Anderson's collaboration with China began much earlier in 2003 through its sister institutions program.
According to TJ Liu, project director of global academic programs, MD Anderson has five sister institutions in Chinese mainland's Changsha, Beijing, Tianjin, Guangzhou, and two in Hong Kong. In addition to exchanges with sister institutions, many research partners and physicians directly come to exchange with individual professors.
China partnership
"China is a very important partner for our academic collaboration. We focus on research, education on cancer prevention and to some degree on clinic care. There are a lot faculty and students coming back and forth," said Oliver Bogler, senior vice-president of academic affairs at MD Anderson.
Over the last decade, MD Anderson has done a lot to analyze the details of cancers in China where gastric and lung cancer are most prevalent.
In cancer prevention, MD Anderson works with Changsha to develop programs to reduce tobacco use. Basically this is a "clinic trial on behavioral science to find out how to help people stop smoking," according to Bolger.
MD Anderson is the most popular choice at the Texas Medical Center for Chinese cancer patients, but other medical institutes, such as Methodist Hospital, a private institute with strength in organ transplantation, orthopedics, cancer treatment and neurology and neuroscience, also began to see more and more patients from China.
"About two years ago we started to see the influx of Chinese patients coming our way. When we see the numbers, we wanted to be more intentional, we want to understand the China market, how to serve them better," said Summer Dajani, vice-president of patient services, education and business development at the Methodist.
Methodist Hospital began to develop academic collaboration with China and established relationships with three hospitals in Beijing, Guangzhou and Shenzhen. "We get our physicians connected with physicians in those institutes. They discuss their patients, go to each other's conferences, share opportunities and expertise. What we learned is that cancer in China is completely different from what we have here. There are far more gastric and lung cancers there," said Dajani.
Methodist treats around 3,000 international patients a year, with the majority from the Middle East, Mexico and Latin America. China is still a relatively new market, accounting for only 2-3 percent of its current total of international patients. About 60-70 percent of Chinese patients at the Methodist are cancer patients.
Dajani said that while more than 99 percent of their past international patient market is built on word of mouth, the most authentic and cheapest way of marketing, they soon realized that the Chinese patients behave differently.
"China is much more tech savvy. People there like to go online to find out information, while in other markets people like to be hand-held more, prefer to talk on the phone or face-to-face more," said Dajani.
That discovery prompted Methodist to decide to translate its current English-only website into Chinese, as well as Spanish and Arabic. Dajani said the Chinese website will be launched in the near future.
"We are also testing social media like Weibo in China. We know it's popular. We want to see if it provides information to patients," Dajani said, adding that they also work with referral agencies.
Lymphona patient
Li (his first name has been withheld for privacy), a 32-year-old man from Qingdao, Shandong province, has spent more than a year in Houston, being treated for lymphoma at Methodist.
He was diagnosed with stage IV-A lymphoma in 2010. After going through a couple of rounds of treatment in China, Li was told that there was no hope for complete remission. His best scenario was to be radiated periodically to only deter it from progressing.
Li learned that a new targeted medicine - SGN-35 for late stage lymphoma - was available in the US but not in China. He came to Houston first seeking treatment at MD Anderson. Li was referred to an oncologist at Methodist by MD Anderson after initial consultation, and he has been receiving treatment there since May 2015.
"I got better with SGN-35, but after six regiments, its effectiveness diminished due to resistance building up. I was then switched to immunotherapy. After 19 regiments, my cancer was in complete remission," said Li.
It has been four months since Li stopped the regiment, and he said he is still cancer free. Now he is being treated for a lung infection from complications, and he is working on recovering his physical strength before heading back to China.
"This is one of the advantages to treat cancer at our hospital. Often cancer patients suffer teeth, gum, liver or kidney complication from chemo. The patients can get joint diagnosis from doctors of multiple disciplinary right here," said Dajani.
Li said advanced medical instruments, medicine and treatment plans in the US but not available in China have been the key for his beating cancer.
"From the very beginning, the oncologist encouraged me, and told me that there are many options for my illness, I must have confidence. I was given hope," Li said. And he said he has been very impressed with the humanitarian care shown to him by all the doctors and medical staff involved in his treatment.
"I felt I was treated like a family member here," said Li.
Both MD Anderson and the Methodist have 50 or so staff who speak different languages to serve their international patients.
"We are particular about patient experience. We centralize everything around them," said Dajani. "We want people to remember their experience is always a good one."
Contact the writer at mayzhou@chinadailyusa.com