'IT'S A DREAM'Afghan boy finally meets idol Messi
It was an image that touched the hearts of millions: A 5-year-old Afghan boy wearing an improvised Lionel Messi jersey made from a plastic bag.
Now, nearly a year later, Murtaza Ahmadi has finally met his idol.
Murtaza traveled to Qatar, where Argentine superstar Messi had traveled with his Barcelona teammates to play a friendly match against Saudi Arabia's Al-Ahli on Tuesday. Barcelona won 5-3.
"I'm very happy to have met my hero. It is a dream for me," said Murtaza.
Murtaza, now 6, also was among stars like Andreas Iniesta, Neymar and Luis Suarez before the game, but it was Messi, a five-time world player of the year, who held his attention. Before the game, Murtaza was seen embracing the Barcelona star's legs. They walked out hand-in-hand to the field.
Murtaza joined in on the Barcelona team photograph and placed the ball on the center circle before running back to Messi's side, with the referee having to take the grinning boy from the field.
The boy became an internet sensation early this year when pictures of him playing near his home in eastern Ghazni province were widely circulated. They showed him wearing a blue-and-white plastic bag in an improvised version of the Argentine national team's jersey, with Messi's name and his No 10 written in black marker.
A few weeks later, Messi sent signed Barcelona and Argentina jerseys to Murtaza.
But not everything has been good about the fame. "I received 20 to 30 unknown threatening calls in Afghanistan asking why I'm teaching my kid about football and not teaching him about the Quran," the boy's father, Muhammad Arif Ahmadi, said.
The family was forced to flee over the border and settled in the Pakistani city of Quetta.
CNN, Reuters and Inside Edition contributed to this report.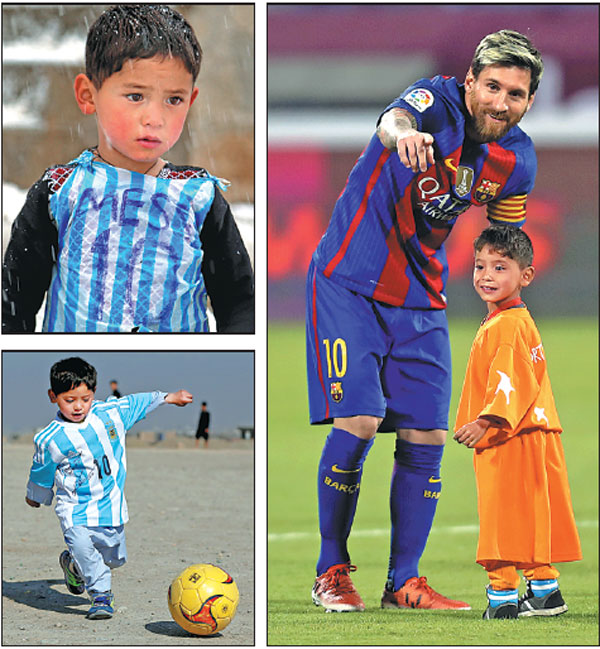 Right: Lionel Messi talks to Murtaza Ahmadi, 6, on Tuesday. The Afghan boy's story spread on the internet in January after he wore a replica of a Messi jersey (left top) made from a plastic bag. In February, Murtaza (left bottom) wears a shirt signed by Messi.Karimjaafar / Afp, Ap, Omar Sobhani / Reuters