Students get stress-buster
A yoga center in China is doing a tour to 10 top Chinese universities in cities such as Beijing and Shanghai to teach students to fight anxiety and depression
Dozens of students at Tsinghua University were practicing yoga in a stadium, with demonstrations by a yoga teacher onstage.
It's part of Yogi Yoga's recent public-service campaign to tackle the problem of depression and anxiety among Chinese university students.
The yoga center in China is doing a tour to 10 top Chinese universities in cities such as Beijing and Shanghai to teach students to fight stress via yoga.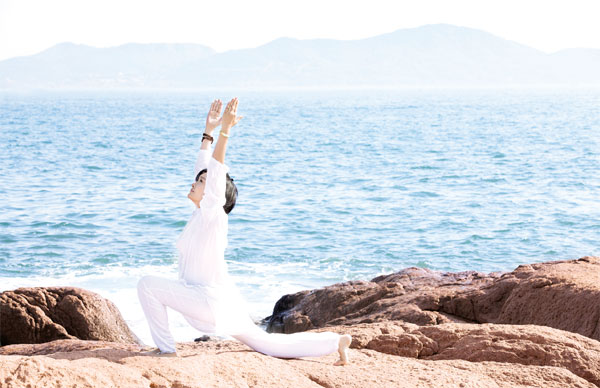 In 2003, Yin Yan cofounded Yogi Yoga with Indian yoga master Man Mohan Bhandari to promote yoga in China. Photos Provided to China Daily
Yogi Yoga aims to benefit 100 universities in total within 100 days and calls for universities to organize yoga classes and say they will send volunteers to teach students.
"I want to share authentic Indian yoga with others. Some yoga practice can help young Chinese students enjoy campus life, rather than suffer stress and anxiety," says Yin Yan.
The editor-in-chief of fashion magazine Elle China, she cofounded Yogi Yoga with Indian yoga master Man Mohan Bhandari, who is better known as Yogi Mohan in China, in 2003. Later, they became a couple and they now have two kids.
"It is estimated that more than 90 million people in China suffer from depression. The campaign aims to help those who have the potential to fall victim to depression," she says.
Bhandari has also developed some yoga postures that are helpful in stress management for university students. He speaks at universities and shares a teaching video online so that students can benefit from yoga. He also has a Sina Weibo account to answers questions from those who practice yoga.
As of now, every day at 7 am, until the end of December, they have a yoga teacher doing a live broadcast on an account named Yoga Digest on Sina Weibo, to encourage the Chinese to learn the ancient Indian practice. Each video attracts tens of thousands of hits.
Yogi Yoga has also worked with Peking University and established a yoga training center, to offer one semester of free courses for university students, including meditation and breathing.
"Scientific research shows that yoga has positive effects in combating depression and anxiety. Yoga can help deal with one's nervous system. And once your system becomes quiet, your mind will be quiet," says Bhandari.
According to him, those who suffer from depression have one problem - they cannot breathe properly. Yoga can help them to balance the oxygen and carbon dioxide level in the body.
In India, most people know about yoga. They know that it is not only a physical exercise, but also deals with mind, energy and spirituality. But for Chinese students, he has to first teach them the basics about yoga.
Besides that, he believes there are not many differences between teaching in India and in China.
Yin practices yoga every morning - postures and breathing to stretch her body. She suggests others also find time to fully concentrate on yoga.
"Yoga is a good way to ease pressure and make you sleep better. Many have the misconception that yoga is only for those whose body is supple. Actually, those who have a stiff body should practice yoga to keep their body balance," she says.
"Yoga is not a career, but my destiny (to promote it). It gives me faith and power," says Yin.
For Yin, her link with yoga and her husband came from her 21-day journey to India in 2003.
She spent the first week in Rishikesh to learn traditional yoga. The city is known as "the yoga capital of the world", with numerous yoga centers that attract visitors from all over the world.
She was a bit depressed when she first saw the city's streets after heavy rains - narrow muddy roads, homeless dogs and vendors hawking goods loudly.
When she first encountered Bhandari, she was impressed that the young man in white robes was quiet and professional.
After one week of learning yoga postures from him, what she saw became different - it was adorable dogs on streets filled with sunshine and friendly locals with smiles on their faces.
"In that week, nothing changed but me. As my body became relaxed and soft, so did my heart," she says.
"Happiness can be simple. Yoga gave me the answer that happiness is about whether you are in a balanced and optimistic state. When you are in society, that state may be affected unconsciously. But yoga can help you to remain positive."
It also stirred her creativity and she wrote a Chinese book Song of India in the same year about the trip that changed her life.
In August 2003, Yin and Bhandari co-founded Yogi Yoga in Beijing, a few months after she invited him to the city to teach her and her friends yoga. While Yin is in charge of management and operations at their outfit, Bhandari is responsible for teaching.
"Yin has great vision, and she wants to give the benefit of yoga to society and initiated the event in universities," says Bhandari.
According to Yin, yoga helps people to have an optimistic attitude to life. Yoga is a series of studies, not just about postures.
She says it is better to practice yoga under the guidance of professionals to find what suits you best. For example, for those who have lumbar disc protrusion, some postures are good while others are not.
xulin@Chinadaily.com.cn