Poultry culling starts after bird flu outbreak
Japan has started culling more than 300,000 chickens and ducks after the discovery of a highly contagious form of bird flu on farms in the north of the country, local officials said.
The bird flu outbreaks are the first in nearly two years in Japan and news of the culling boosted shares in some infection-control product makers.
In Niigata prefecture north of Tokyo, authorities on Tuesday started culling about 310,000 chickens at a farm in the village of Sekikawa after 40 birds were found dead from H5 bird flu, a prefectural official said. The cull will continue until Dec 2, the official said.
Further north in the prefecture of Aomori, about 16,500 ducks were being culled in the city of the same name after some tested positive for bird flu.
This is the first time that highly pathogenic bird flu has been confirmed in Aomori prefecture, it said. The Agriculture Ministry said the outbreaks are the first for nearly two years in poultry farms in Japan.
South Korea on Friday announced a temporary nationwide standstill order for poultry farms and related transport over the weekend in a bid to contain a spread of H5N6 bird flu, a severe strain of the disease.
Another severe strain of bird flu, H5N8, has hit several countries in Europe and led to the culling of thousands of poultry after being detected in wild ducks in Northern France.
Undetected in humans
In recent weeks there have also been outbreaks in the Netherlands, Switzerland, Romania and Germany. Dutch authorities destroyed about 190,000 ducks on Saturday at six farms following an avian flu outbreak.
Farmers located in humid regions, where the risk of transmission is higher, are advised by health authorities to keep poultry flocks indoors or apply safety nets preventing contact with wild birds.
The H5N8 virus has never been detected in humans but it led to the culling of millions of farm birds in Asia, mainly in South Korea, in 2014 before spreading to Europe.
The World Organization for Animal Health had warned in November that more outbreaks of H5N8 were likely in Europe as wild birds believed to transmit the virus migrate southward.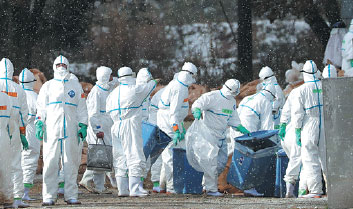 Workers wearing protective suits cull ducks after some tested positive for H5 bird flu at a poultry farm in Aomori, Japan, on Wednesday. Kyodo News Agency Via Reuters