Celtic boss hails Messi as best ever after Barca wizard weaves magic
Celtic coach Brendan Rodgers hailed Barcelona's Lionel Messi as probably the greatest player in soccer history after the Argentine magician scored both goals in Wednesday's 2-0 win over the Scottish champion.
Returning to the team after being sidelined with illness, Messi proved the difference as Barca comfortably took its place in the last 16 of Europe's premier club competition.
In another Group C match, Pep Guardiola's Manchester City booked its place in the Champions League last 16 with a 1-1 draw at Borussia Moenchengladbach as both teams finished with 10 men.
The point ensures City will finish second in its group with one game left. Gladbach is confirmed in third, which means a spot in the last 32 of the Europa League.
Asked if his side would have won had Messi been playing for Celtic, a smiling Rodgers said: "We would have had a big chance, there's no doubt about that.
"He's arguably the best player ever, and when he plays on your team he makes everyone else better. So if he's playing for Celtic tonight, no doubt he makes us all better."
In addition to scoring both goals, Messi created chances for others, and capped his virtuoso performance with a mesmerizing matador-like feint that bamboozled Celtic captain Scott Brown in the closing minutes.
Messi missed Barcelona's scoreless draw against Malaga on Saturday with the flu bug, but was back to his tormenting best just as he had been when scoring a hat-trick in Barca's 7-0 win over Celtic at Camp Nou two months ago.
The brace took Messi's Champions League total to 92 goals, including nine in this season's group stages.
Though he narrowly missed a hat-trick, his genius ensured Celtic exited all European competition while Barca progresses to the last 16 as group winner.
Celtic Park on Champions League nights provides one of the best atmospheres in world soccer, but Messi silenced the raucous crowd of 60,000.
"Messi, at this level, was decisive," Barcelona coach Luis Enrique said.
"It was a game that we expected. In one of the toughest groups, we have come out on top. I have to congratulate the team."
Rodgers had impressed upon his players not to give their illustrious opponents too much respect as they had done in Barcelona, and they were certainly not humiliated in the same manner as they were in September.
They had some decent goalscoring opportunities by striker Moussa Dembele, but he failed to add to his three goals in this season's group stage.
For all Celtic's pressing and possession, however, Barca had too much class with Messi its executioner again, latching on to Neymar's perfect through ball to blast a shot past Craig Gordon in the 24th minute.
He doubled his tally from the penalty spot in the 56th after Luis Suarez was fouled by Emilio Izaguirre.
Messi had further opportunities to add to his tally, and only a remarkable save by Gordon from a Suarez header in the first half prevented the winning margin from being wider.
"The players gave everything," said Celtic boss Brendan Rodgers.
"We restricted them to one or two chances and at 1-0 we had a real chance to equalize. However, they went up to the other end and scored a second.
"I was proud of the team tonight. We looked like we played without any fear and we pressed the game well.
"If we take some of our chances then it might have been a different game. But we showed a vast improvement, which is important."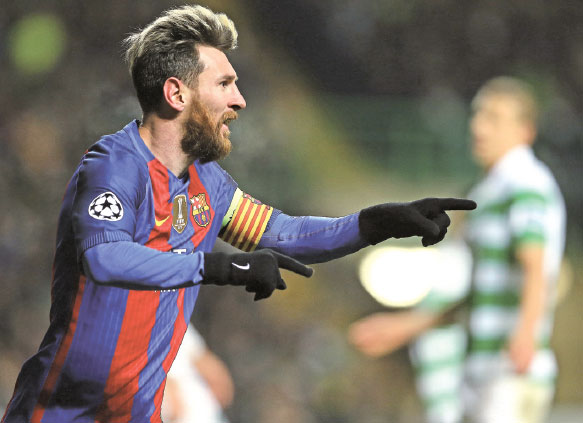 Barcelona's Lionel Messi celebrates scoring his second goal in Wednesday's 20 victory over Celtic in their Champions League Group Cmatch in Glasgow, Scotland. Scott Heppell / Ap