Nintendo to release first iPhone super Mario Gamed
Nintendo Co will release Super Mario Run worldwide for Apple Inc's iPhone and iPad on Dec 15 in US time zones, a highly anticipated launch that has a high bar for success after this summer's Pokemon Go phenomenon.
The game, the first mobile edition starring one of Nintendo's most iconic characters, will be free to download initially, and include an optional one-off payment of $9.99 to unlock all of the features.
In addition to English and Japanese, Super Mario Run will be available in several other languages, Nintendo said in a statement on Tuesday.
The model of luring in players with a free version and then a one-time price is "a great strategy by Nintendo", said Neil Campling, an analyst at Northern Trust Capital Markets.
Many successful mobile games, such as Supercell Oy's Clash of Clans, which is also free but lets players buy "gems" with real-world currency, have seen annual spending of $100 a year per gamer, he said.
"To set a low incentive and then a low total cost when engaged could set Nintendo on a differentiated path, which ultimately could be a game changer," Campling said.
Nintendo's shares rose 2.4 percent to 25,445 yen in Tokyo. The stock is up more than 50 percent this year, compared with a 6 percent decline in the Nikkei 225 Index.
Super Mario Run's pricing structure means players can feel like they're getting a bargain, Campling said, since it's about the same price as a one-month subscription to Netflix or Spotify and a fraction of the cost of a traditional game.
Kyoto, Japan-based Nintendo has said any anticipated impact from the new game is already included in its earnings forecast for the current fiscal period, and that Super Mario Run will also be introduced for Android-based devices at a later date.
Super Mario Run marks the first time Nintendo's popular franchise is appearing on a smartphone.
Shigeru Miyamoto, one of the creators of the original Mario game, gave a short demonstration of the game at Apple's annual iPhone event in September.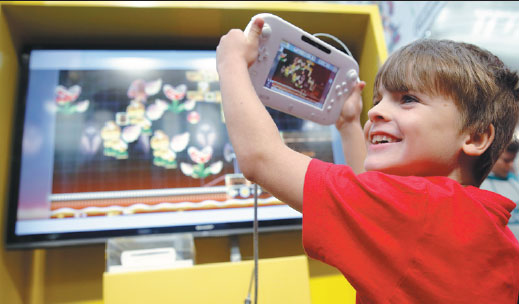 A boy reacts as he plays Super Mario Maker, developed and published by Nintendo Co for the Wii U, at the Legends of Gaming Live event in London. Bloomberg