Most-wanted fugitive returns after 13 years
China's most-wanted fugitive, Yang Xiuzhu, who fled overseas 13 years ago, returned to Beijing on Wednesday in what is considered an important achievement in China's anti-graft efforts.
Yang, 70, former deputy director of the construction department of Zhejiang province, has been accused of embezzling 250 million yuan ($36.3 million), according to the Communist Party of China's Central Commission for Discipline Inspection.
Yang fled overseas in 2003 and had been to many countries, including Singapore, France and the United States, to avoid punishment. She took an American Airlines flight back to Beijing from Dallas and was arrested upon her arrival on Wednesday afternoon at the airport.
"Thanks to close law enforcement cooperation between China and the US, Yang decided to cancel her political asylum application in the US and voluntarily come back to make confessions," said Liu Jianchao, director of the CCDI's International Cooperation Bureau.
He said judicial authorities in the two countries will continue to work together to recover her ill-gotten gains left in the US.
Foreign Ministry spokesman Geng Shuang called Yang's return "an important achievement of anti-graft law enforcement cooperation between China and the US".
"We appreciate and give thanks for the assistance and cooperation of the US and relevant countries."
The US is a popular destination for corrupt Chinese officials to flee to because of the lack of bilateral extradition treaties and differences in laws, according to the Ministry of Public Security.
Yang ranked No 1 on China's 100 most-wanted fugitive list released by Interpol in April of 2015. She is the 37th that has returned so far.
According to the CCDI, after Yang's escape, Chinese judicial authorities officially requested their US counterparts to send her back and offered timely and solid evidence, including proof of embezzlement and cross-border money laundering. Then Yang was detained in the US.
In December 2014, Yang was listed as one of the five most-wanted corrupt fugitives that were the subject of "advanced negotiations" between China and the US to speed up their return.
The two countries also set up a joint investigation team to handle Yang's case, which dispatched personnel to conduct field investigations and collect evidence. Her illicit assets were frozen and confiscated, the CCDI said.
CCDI figures show that between April 2014 and September 2016, China was able to secure the return of 2,210 fugitives, including 363 corrupt officials from more than 70 countries and regions. The authorities also confiscated 7.99 billion yuan ($1.16 billion) in illegal assets.
zhangyan1@chinadaily.com.cn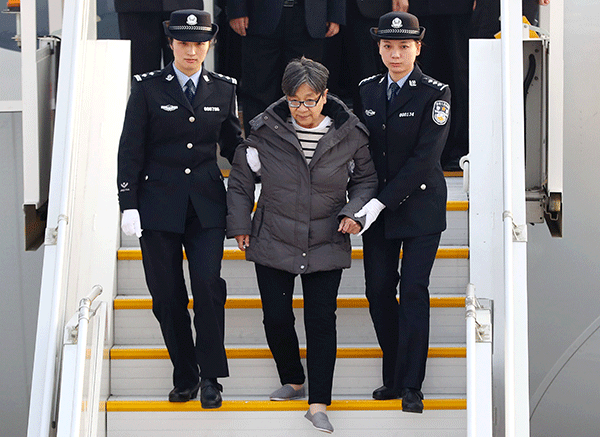 Yang Xiuzhu, accused of embezzling $36.3 million, is escorted from a plane after arriving in Beijing from the United States on Wednesday.Yin Gang / Xinhua