If Texans can't go to the mountains, then why not bring the mountains to Texas?
A delegation from Tibet shared their history, life and culture through discussions, a photo exhibition, film, dance and music performance with Houston residents on Wednesday, at the University of Houston, University of St. Thomas and the Asia Society Texas Center (ASTC).
Titled Experience China: US Tour of West Region Culture, the exchange was a collaboration between China's state council's information office, the Consulate General of China in Houston and the ASTC.
At the University of Houston, five speakers from the delegation presented various topics related to Tibet. The panel consisted of professors, officials responsible for economic development in Tibet and a Tibetan living Buddha.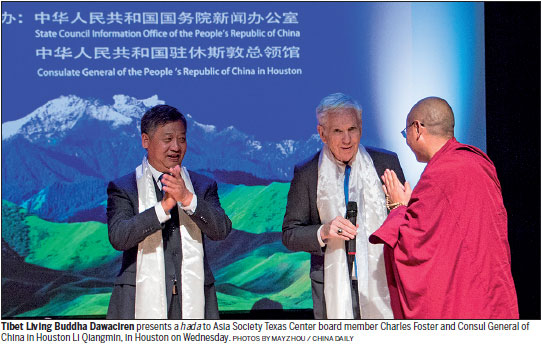 Topics ranged from Tibet's natural wonders available for tourism and Buddhist monks day-to-day life in the temple to the current economic state of the region.
The Third Pole, a film showcasing Tibet and the Tibetan Plateau, was screened for students and faculty.
At the University of St. Thomas, political science scholars and members of the US-China Friendship Association exchanged information with members of the delegation, touching on topics such as the potential for healthcare collaborations and the diversity of Tibet's religions.
"All religions are regarded equal in Tibet," said Dawaciren, a Tibetan living Buddha. "There are Christian churches and Islamic temples in Tibet, and there is interaction between them and Tibetan Buddhism."
The photo exhibition at ASTC drew a large crowd.
Charles Foster, a member of ASTC's board, said, "The exhibition is very colorful and impressive. I have been to Lhasa and it was a special trip of a lifetime. We enjoyed it thoroughly. A picture is worth a thousand words and they really showed the grandeur of that part of the world."
Lu Guangjin, director of the state council's information office and head of the delegation, said that the exchange was a result of an agreement reached by the heads of China and US.
"We came when the US was electing a new president, which made this a more special occasion," Lu said. "It's has been a few decades since Deng Xiaoping put on a cowboy hat in Texas. The US-China relationship has experience rainy days and sunshine, but there has been more sunshine. Today we bring part of west region's culture to our friends here. We hope this helps them better understand China's culture."
Consul General of China in Houston Li Qiangmin welcomed the audience, saying he had visited China's west region many times.
"It shares similarities with Texas with its vast open spaces, different ethnicities working together and fast economic growth," Li said. "You get a sense of its immense beauty from the performances, the photos and film."
Experience China is a program presented by the information office of the State Council. Since it started in 1999, it has visited more than 40 countries.
Tiffany Wang in Houston contributed to the story.
mayzhou@chinadailyusa.com