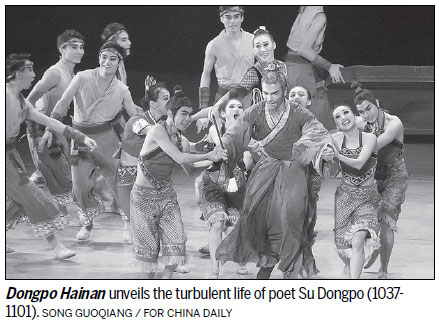 The traditional Chinese ballet, Dongpo Hainan, based on the life of poet Su Dongpo (1037-1101), has been selected for the National Art Foundation sponsorship program. It has already dazzled audiences in Beijing and Tianjin, and more performances are now scheduled for Danzhou, Baoting and other cities in Hainan province.
Although many Chinese come across Su in school textbooks - his poems and his mouthwatering pork recipe - his life and legacy remain a mystery.
The ballet unveils his turbulent political career and his time as a minister in Hainan after his career was brutally sabotaged in 1097.
During his term in Hainan, he devoted himself to education, cultural integration and promoting advanced farming techniques to the local people.
His ceaseless endeavors brought the Li ethnic group closer to the Han, the dominating ethnic group during the Northern Song Dynasty (960-1127).
The ballet is heavily influenced by the folk music of the Li ethnic group and traditional Chinese ballet, combining sophisticated manipulation of sound, lighting and electronic effects to create a vivid modern masterpiece.
"As a civil servant and a son of Hainan, I was deeply moved by this fantastic show," said Luo Baoming, Party chief of Hainan. "It has had a strong cultural resonance for me."
Luo pointed out that Hainan has long been criticized and misunderstood as a "culture desert", an isolated island of nothing but beautiful landscapes. But the Hainan people's relentless pursuit of art has proven the opposite. Hainan is, indeed, a cultural hub with much more to offer.
"Dongpo Hainan is a successful example of our cultural reformation," Luo said.
"To reveal the best out of our local culture is the weight on my shoulder as an artist," said Peng Yuxiang, the director of the ballet. "Every Chinese litterateur can see himself reflected in Su in some way."
The ballet adaptation of the great poet's life was produced and presented by the Publicity Department of Hainan Party Committee, Sports and Art Bureau, the Hainan Chorus, the Beijing Dancing Academy and the Ballet Academy of Hainan Chorus.