BYD of China, one of the world's leading electric vehicle manufacturers, will put its European bus manufacturing plant, now under construction in Hungary, into operation next year to meet the rising demand for zero-emission vehicles in Europe, its European head tells China Daily.
"We have seen a rapid increase of tenders, inquiries and orders for e-buses in Europe after BYD's several years of incubation here and we must construct a manufacturing plant to satisfy the rising demand," Isbrand Ho, managing director of BYD Europe, says at the office of his European headquarters in Schiedam in the Netherlands.
To prepare for the growth in business, Ho says that his company decided to build a manufacturing center in the Hungarian city of Komarom on the River Danube at the beginning of this year and the construction of the plant will be completed by December.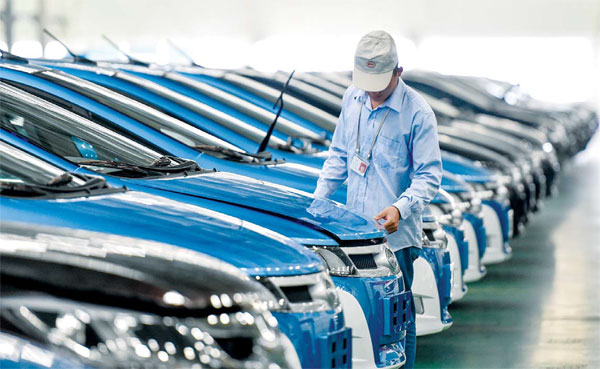 Workers check the newly assembled BYD e-car in the company's factory in Shenzhen. Mao Siqian / Xinhua
"We plan to put it into operation next year and plan to create more than 200 jobs," says Ho, adding that his company will give more details about the plant soon.
But he adds that the location of its first European manufacturing center was decided after careful consideration, especially with reference to labor costs and proximity to the company's main markets.
BYD, with its headquarters in South China's Shenzhen, Guangdong province, describes itself as being the world's biggest e-bus provider and the numbers have shown that it has already put around 4,000 e-buses into service, with another 4,000 on order worldwide, though most of those in operation are in China.
In 28 European Union countries, the annual forecast for new buses is about 35,000 and now, due to strict emission controls and cleaner air plans in cities, many operators have chosen to use electric buses.
"Imagine if half of the market share is electric, what should we do to prepare for such a scenario?" asks Ho.
He adds that all signs point to the fact that such a scenario is possible in the future and so his company must prepare for bigger orders.
Such trends are already evident in the UK and France, he says.
He tells China Daily that BYD will officially launch 51 single-deck e-buses in London on Sept 9. The buses are jointly made by BYD and its British partner Alexander Dennis Ltd (ADL). Ho says BYD has provided its battery and electric chassis technology, while ADL contributed its strong experience in body manufacturing.
Ho speaks favorably of the election of the new mayor of London, Sadiq Khan, who replaced Boris Johnson this year. He expresses his excitement about Khan's commitment to cutting traffic emissions in the city by expanding its low-emission zone and speeding up plans for realizing the Ultra Low Emissions Zone as soon as 2019 rather than the original plan of 2020.
"This is encouraging and public transport operators must turn to us to ensure that this vision becomes a reality," Ho says.
The city of Nottingham in the English Midlands, has already ordered 13 e-buses from BYD.
Ho says that in France, BYD's partner ordered 15 electric coaches for use as school buses shortly after his company demonstrated its fully electric vehicle against the backdrop of the iconic Eiffel Tower in Paris earlier this year.
He adds that orders from Sweden and Italy are also increasing.
BYD has also helped Amsterdam's Schiphol Airport to achieve its sustainability goals by providing 35 vehicles, Europe's largest fleet of electric buses, for its airside operations since last year. Ho says his company has signed a 10-year service contract with the airport.
Following the example set by Schiphol, Ho says that airports in Brussels and London are also making initial enquiries about the e-buses, which might result in additional orders.
fujing@chinadaily.com.cn