The proposed Shanghai-London stock connect should go ahead, according to financial experts in Britain, who have dismissed concern that Brexit will make listings on the London exchange less attractive to Chinese investors.
Those within the finance community argue that the London Stock Exchange's tough listing rules, compared with the European Union, will prevent it from losing its luster.
The London bourse is continuing a feasibility study into the proposed connection, although media reports suggest the China Securities Regulatory Commission may be cooling on the idea.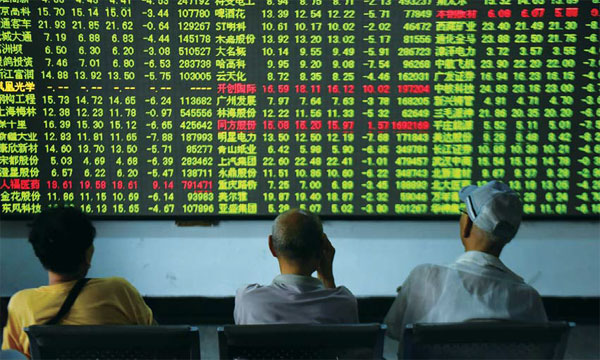 Chinese stock investors watch the market in Hangzhou, Zhejiang province. Long Wei / For China Daily
Ahead of the EU referendum on June 23, the South China Morning Post quoted Que Bo, deputy general manager of the Shanghai Stock Exchange, as saying that Brexit would create a "complicated issue".
However, analysts in Britain believe the London exchange will continue to be an important investment platform.
Charles Bond, a partner at law firm Gowling WLG in London, expects most major multinationals to continue to list both in London and New York, and that "European stocks will still be listed here, thereby ensuring that London remains relevant and viable".
The tough listing rules in London could even help attract more European companies after Brexit, adds Andrew Monk, CEO of VSA Capital, a boutique investment bank.
The main board of the London bourse is split into premium and standard listings, which Monk says is to reflect the difference between listings that meet its requirements and those that satisfy only EU regulations.
Robin Stevens, a corporate finance partner at accountancy firm Crowe Clark Whitehill, also says London is the world's largest and most active international capital market in terms of the number of international companies listed and number of financial analysts covering their shares.
The EU referendum came at the beginning of a two-month summer period that is traditionally quiet for initial public offerings in London, he says, adding that he expects a return to normal in the autumn.
The Shanghai-London connect, initially discussed by British and Chinese officials last year, fits with China's efforts to gradually open up its capital account and comes after similar connections established by Hong Kong with Shanghai and Shenzhen.
However, among the concerns raised after the Brexit vote was that Britain may lose its "passport" rights to access EU financial markets.
Miranda Carr, senior analyst at Haitong Securities, says such an event may force fund managers to leave London and could deter companies from launching IPOs in London.
Britain could also lose its ability to clear euro transactions, adds Liu Chang, the China economist at Capital Economics. "This, along with regulatory uncertainty in Britain's financial services sector, could lead to a gradual shift in activity away from the city and to continental Europe," he says.
In other words, Britain's loss could be a gain for Europe's other financial centers.
"This is probably an opportunity for a mainland European stock market to establish the same type of connect, unless the merger between (London Stock Exchange) and Deutsche Boerse allows the combined markets to benefit from the best of both worlds," says Andre Loesekrug-Pietri, founder and managing partner of ACapital, a private equity firm in Brussels.
Christian Cornett, a corporate partner at law firm King & Wood Mallesons, agrees. He says there are rumors in the market that some IPO candidates for London, as well as firms listed there, are seeking secondary listings within the EU, to ensure they will be able to "passport" their prospectus throughout the EU post-Brexit.
Frankfurt's China Europe International Exchange is already proving attractive to international investors, and the uncertainty in London caused by Brexit could make it an important bridge between capital markets in China and Europe.
Launched last year, Ceinex is a joint venture between Shanghai Stock Exchange, Deutsche Boerse and the China Financial Futures Exchange that lists more than a dozen exchange-traded funds and more than 100 bonds, most of which relate to Chinese onshore investment opportunities.
cecily.liu@ mail.chinadailyuk.com