A University of Washington police commander said it's been decades since he's seen a fraud case like the one that has victimized Chinese overseas students "spread so rapidly".
"In the past 21 years, we have never seen a fraud case like this that can take off and spread so rapidly. Now we want to make sure we got the initial reports from all the victims and we have all the information needed," Commander Craig Wilson of the university police (UWPD) said at a press conference on Aug 5 on the Seattle campus.
More than 90 Chinese students are believed to have been defrauded out of approximately $1 million in tuition, said police, who expect more reports from potential victims.
No arrests have been made in the case, but reports have cited student allegations are that the alleged ringleader is a fellow Chinese student. The Seattle Times reported that the university has contacted the US Federal Bureau of Investigation in the matter.
"Students were being told if they paid 100 percent of their tuition, that they will get reimbursed 5 percent," Wilson said. "So they would only need to pay 95 percent of it," KOMO news reported.
UW police Lieutenant Doug Schulz told The Seattle Times that students were asked to provide their university ID and password for their student accounts through WeChat, a popular Chinese messaging app. The alleged scammers apparently used stolen credit card numbers to pay the $11,340 tuition, and then students would receive a confirmation from the university that it had been paid, because the scammers processed it through their university accounts, the newspaper reported.
Justin Su, a UW student from Hebei province in North China, said he received a WeChat message a while back mentioning a 5 percent discount. He said he was interested because he thought it would be a good way to save some money.
"Five percent may not sound like much, but compared to over $10,000 in tuition we paid, it is already good enough," he said.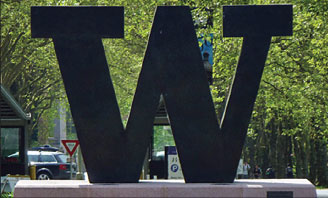 The W statue at the entrance of the University of Washington in Seattle. Provided to china Daily
"Living in a foreign country alone is already not easy for us," said Su, adding that the possibility that it was another Chinese student behind the scam made him feel "even worse".
Reports say the student who originally promoted the tuition break on the Chinese social media site WeChat has been prominent in the Husky Help Organization. Husky Help is the largest non-profit organization of Chinese students at the school. It is a nonprofit, registered student organization at the university, established by several UW Chinese international students in 2013.
The organization is dedicated to helping international students, especially those from China, adjust to campus life at UW and is popular with Chinese students.
More than 30 students said to be victims of the scam attended the press conference.
The fraud started to unravel last month when a New York detective contacted the university about stolen credit-card numbers being used to pay UW summer tuition.
lindadeng@chinadailyusa.com