Long, slow slide of instant noodles
Once so common that sales were used to track migrant workers, this hot convenience food is losing its steam as China changes
Instant noodles are called "convenience noodles" in the Chinese mainland. The latest report that the product's annual sales dropped 12.5 percent in 2015 does not really come as a shock. They have been on a long and painful decline for the past several years.
What's not convenient, though, is the explanation, or rather explanations.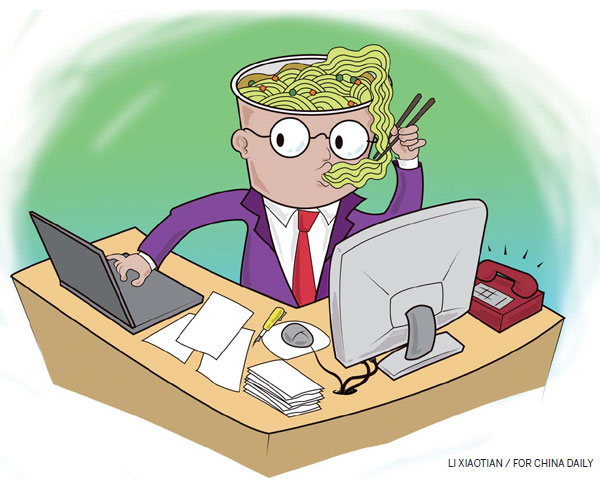 Three decades ago when a US business executive was calculating how much he would make by selling one pair of sneakers to every Chinese, I simply laughed.
A pair of Nike shoes could have set an ordinary Chinese back a month's salary at the time. To use 1.3 billion as the base of one's market size was simply a misunderstanding of massive proportions.
Instant noodles, however, may fit into the equation. Other than convenience, affordability is a major attraction. But not at the very beginning.
My first encounter with the precooked and dried noodle block was in 1982, when a richer classmate from a big city brought a packet. The whole dorm room was flabbergasted. It had a bling-bling effect.
Soon, it appeared in a movie scene, along with a refrigerator, where it was touted as a sign of new wealth - very much like characters in the Tiny Times movies speaking of their ultra-expensive mugs.
I guess the days of instant noodles as a luxury food item were short-lived. When I returned to China a decade later, they were everywhere. It was 1992, the year Master Kong, the reigning beverage champion, first entered the mainland market, seeing an average of 20 percent annual growth after that.
The most concentrated consumption must have been in long-distance trains, where instant noodles were the staple by default. For many years it must have been the most democratic food of all. It was slurped with equal gusto in the soft-berth section and the hard-seat section.
Then I heard that the sales of instant noodles were used as an indicator for the living and moving patterns of migrant workers. It made sense.
This demographic had the highest need for this form of food. So the downturn in sales volumes could well speak volumes of a corresponding decrease in the number of workers who leave home for faraway jobs.
But there are other factors at play.
The downgrade in market positioning was much less perceptible than that in sales. When high-speed trains first came into service, I noticed far fewer passengers lining up at the water heater at lunchtime.
Some would order the overpriced lunch box and others would take out other processed food. In recent years those ordering the box, priced up to 60 yuan ($9; 8 euros), have risen considerably.
Part of the reason is that many new stations have banned the sale of instant noodles, which at 5 yuan apiece could pose a threat to higher-value sales.
Availability alone obviously cannot account for the change in taste.
Suffice to say, instant noodles have stopped being the default food for those not picky about what fills their stomachs. Urban youths such as students used to rely on a steady supply when their families were not around. But the scene of half-empty Uni-President or Master Kong cups scattered around dirty dorm rooms was so noughties.
Nowadays, they order takeout food online, which still comes in round paper cups, but unlabeled, and with far more variety.
Another sign that instant noodles have gone down-market is the string of rumors that plague the product. Every couple of years there is an unverified - and unverifiable - piece of news that alleges the noodles contain one poison or another.
I don't think this was started by a competitor, but more likely by someone who could not tell the difference between poisonous and unhealthy.
Eating too much fried noodles would not be that different from having too many fried chips, and the seasoning is too strong for the average palate.
I usually discard half of it. It has a manufactured deliciousness quite irresistible to an empty stomach, but repulsive to those with a more sophisticated taste.
At the height of sales, in 2011, China sold 48.38 billion packets of instant noodles, which came out to 37 packets per person. I don't know the per-capita sales in other countries, but I doubt we will ever return to that level of consumption again.
Yes, there are high-end choices that may help change the product's image, but just like the bicycle it will never be a choice for everyone again -unless, God forbid, a nationwide famine strikes.
As the scene of hundreds of thousands of bicyclists rushing along Chang'an Avenue is gone forever, the sight of hundreds holding a bowl of instant noodles in a train car will recede into fond memories.
My economics professor at Berkeley once justified the Chinese tendency to dress alike during the years before reform and opening-up by saying that it was much more cost-effective to make the same style of clothing, even the same colors - usually blue and gray - for a billion people.
The more of the same you make, the more economies of scale would kick in, he said.
By the same token, if every Chinese lives on a heavy diet of instant noodles, the cost - and hence the price - would be further lowered and the whole nation's food bill would come down.
However, human beings are not purely economic animals. They have other needs. Even though one food item can prevent us from starving and one set of clothes can keep us warm, we yearn for diversity.
That's why one-size-fits-all merchandise or services, which used to sound so tantalizingly utopian because everything is calculated by "times 1.3 billion", is just a phase in growth, which China has happily outgrown.
Once our basic needs are satisfied, we search for things that differentiate us from others, things that define who we are, or rather who each of us is.
I have no prejudice against instant noodles (I'm a regular consumer of them). But when they became the choice for everyone, it was like reaching the peak of a mountain. The only way to go beyond that is down.
Contact the writer at raymondzhou@chinadaily.com.cn