China has made 'sufficient preparations' for any sovereignty infringement or provocation
China's naval chief told a visiting US Navy officer on July 18 that Beijing "will never give up halfway" the construction of its islands in the South China Sea.
Admiral Wu Shengli, commander of the People's Liberation Army Navy, also told Admiral John Richardson, US chief of naval operations, that the Chinese Navy has made "sufficient preparations" to deal with any sovereignty infringement or provocation.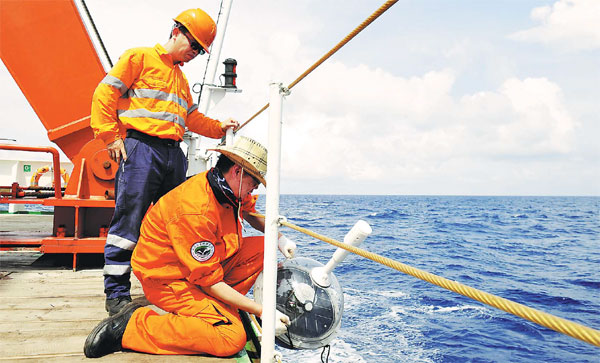 Researchers aboard the Zhang Qian place a buoy for a maritime meteorological study in the South China Sea on July 18. The vessel, named after an ancient Chinese diplomat, has set out on a two-month voyage to the South Pacific to test its navigation abilities and equipment. Zhang Jiansong / Xinhua
Despite negative factors, Beijing is still willing to peacefully resolve disputes via negotiations and "manage and control crisis through rules and mechanisms", Wu says.
Washington has pressured Beijing this year by sending military ships and planes to approach or intrude on Chinese territorial space in the South China Sea.
Wu says any attempt to intimidate China by flexing military muscle "will only backfire".
Beijing will "advance and complete island and reef construction as planned", no matter which country or individual pressures China to do otherwise, and "the level of our defense on these islands and reefs depends on the threats facing us", Wu says.
Richardson began his first visit to China on July 17 and stayed until July 20. He told Wu in Beijing that he is ready to join hands in boosting trust and friendship to achieve lasting development of ties between the two navies, militaries and countries.
Fan Jishe, a US researcher at the Chinese Academy of Social Sciences, says the US "has played a negative role in the South China Sea disputes, and its proactive engagement in the Asia-Pacific region has aggravated conflicts".
Zuo Xiying, an international studies specialist at Renmin University of China, says the South China Sea has become the forefront of China-US competition, and "it would be a good thing if they reinforce strategic communication and formulate more rules accepted by both".
Su Ge, president of the China Institute of International Studies, told the World Peace Forum in Beijing that "although cooperation between Beijing and Washington cannot end all the issues in the world, not a single major issue could be resolved if the two sides walk into full-scale confrontation".
On July 18, Chinese air force spokesman Shen Jinke said the PLA Air Force recently conducted a combat readiness patrol in the South China Sea, including sending its H-6K bombers to patrol around Huangyan Island.
Such combat readiness patrols in the South China Sea "will continue on a regular basis", Shen says.
Meanwhile, a navigation alert issued on July 18 at the website of China's Maritime Safety Administration said military activities were being conducted from July 19 to 21 in designated waters in the sea.
The alert gave coordinates to define the designated area in which entry by other vessels will be prohibited. The area is southeast of Hainan Island.
Contact the writers through zhangyubi@chinadaily.com.cn