Ladder to school set for upgrade
A local government has vowed to upgrade a precarious ladder used by 15 children from a remote village in Sichuan province who need to scale an 800-meter cliff on their way to school.
Their walks to school made headlines around the world.
The local government says it will ensure the children, aged 6 to 15, now get a stronger ladder.
The youngsters had been using the rattan ladder to travel between their home village and the boarding school they attend.
They make the journey once every two weeks and need to trudge through a mountainous area and cross rivers.
Two weeks ago, Beijing News reported that the students from Atuler village, in Liangshan Yi autonomous prefecture, often spend two hours climbing the rock face via a chain of 17 ladders that have been tied together. Some of the ladders are perpendicular and fixed to the cliff with steel bars or timbers.
On Monday morning, when the students and their parents gathered at the cliff so they could climb down the ladder, they were told by a local official that the ladder needs to be checked and strengthened.
According to the Beijing News, the students and parents took another route back to their village, a journey that took six hours.
The paper reported that they ran past landslide areas, screamed their way past snakes and walked hand-in-hand through a 50-meter dark tunnel that they illuminated with their parents' mobile phones.
They also crossed a 3-meter-wide creek, where they paused for a drink.
The children reached the highway at 12:35 and spent another 20 minutes in a car from the local authority.
Lin Shucheng, Party chief of the prefecture, promised to build a steel ladder to replace the rattan one as soon as possible to ensure the safety of the villagers.
And the local government will follow that up by inviting experts to discuss other ways to solve local problems of poverty and transportation, Lin said.
Api Jiti, Party chief of Zhimo'er township, which governs Atuler village, said it is unclear which company will make the steel ladder.
Api said the students will carry on with their six-hour detour until the new ladder is installed.
"We would rather have the students spending more time on their journey that put them at risk," Api said.
"We have to ensure their absolute safety."
Jike Jinsong, an official with the Zhaojue county government, said it would cost about 60 million yuan ($9.1 million) to build a road to connect the village with two other remote villages. But the county government only has 200,000 yuan available for the project.
It would also be unrealistic to relocate the village to a more accessible site farther down the mountain because the villagers would lose access to their land and the source of their income, he said.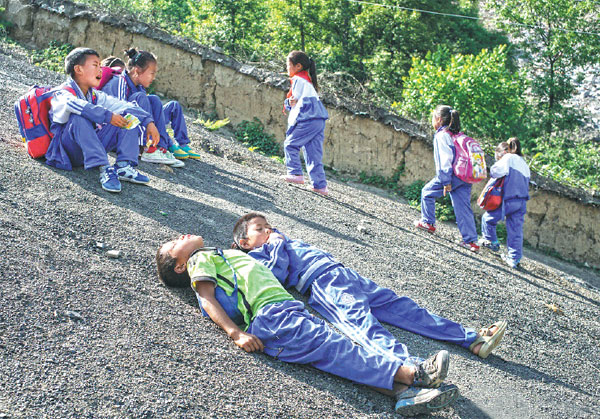 Children fromAtuler village in Sichuan province take a rest during their regular long trudge to school.  Chenjie / For China Daily