Performers needed for epic musicals and other acts
When Niu Tianlong graduated from the Shanghai University of Sport last year, the 22-year-old planned to pursue his passion for a full-contact, Chinese martial art known as wushu.
Then The Walt Disney Co came calling. Nowadays, he's lacing up his knee-high boots, donning pantaloons and a blue bandanna, and rehearsing a sword-fighting scene ahead of the June 16 opening of the $5.5-billion Shanghai Disney theme park.
"The physical part is not tough at all compared with wushu, but the performance, the expressions on my face and acting - that's very challenging," said Niu, who has been hired to play a swashbuckler and entertain park visitors between attractions.
In Disney's effort to expand its signature character-based entertainment to China, figuring out millions of small details such as the Mandarin translation for hakuna matata has been the least of its worries. Instead, managing an epic, year-long casting for the 1,000 performers for marquee musicals such as The Lion King and all manner of other acts that make the Magic Kingdom such a powerful draw, has proved more challenging.
Performance arts training on the mainland tends toward classical Chinese forms in major urban areas, and is pretty much non-existent everywhere else.
In the United States, there's a surplus of people who can act, sing, dance, or do all three. In China, the relatively small number of performers who have studied Western musical forms are more likely to have studied operatic bel canto pieces than belt-it-out Broadway tunes.
That's forced Disney to improvise. Years ago, when the Shanghai Disney was in the concept phase, the company started building its own talent development network from scratch by partnering with 30 arts institutes around the country.
"Disney is doing something in China that has never been done before," said University of Virginia Darden School of Business professor Elliott Weiss, who has written a case study on the Shanghai Disney. "The question is when the park can be profitable, given the additional investment they have had to make finding and training talent."
Disney has steadily cultivated its brand with Chinese millennials, many of whom first encountered Mickey Mouse only in 1986, when the China Central Television network started to broadcast Disney animations.
In 2008, the company launched its Disney English-language training schools in China, starting in Shanghai. Disney now has 28 learning centers in seven cities across China that teach kids ranging from ages 2 to 12, with class materials featuring Disney characters such as Buzz Lightyear and Nemo.
Yu Liang, 24, said she became entranced with Disney after learning English by studying The Little Mermaid.
When she entered the drama and dance program at Shanghai Normal University in 2011, it coincided with the first year of Disney's outreach program to arts schools. For the rest of her undergraduate program, she attended Disney's talks during on-campus recruitment visits and participated in performance clinics. Last year, Yu landed the female lead role in a Shanghai Disneyland production based on the Pirates of the Caribbean character Jack Sparrow. "I almost cannot believe it has happened," she said. "I wanted to work for Disney for 10 years or 20 years."
For more experienced performers such as Li Weiling, 28, who will play Nala in the Mandarin-version of the Lion King musical, a callback from Disney after a year of auditioning was a huge career break. The Xiamen graduate of the prestigious Shanghai Conservatory of Music had been teaching full-time after finishing a two-year run in 2014 as Silibub in a Chinese-language production of Cats.
"In my second year of university, my teacher gave me Nala's song, Shadowland, to sing," she said. "I didn't know about this musical then. Now I am trying to cope with the pressure of being China's first Nala."
With just two weeks to go before the Shanghai Disney opening, Chinese performers are rehearsing with directors and trainers flown in from the US. After Disney gets its troupe ready for prime time, the next challenge may be keeping them.
Starting next year, Shanghai Disney will face greater competition. DreamWorks Animation SKG Inc has a $2.4-billion DreamCenter park scheduled for 2017 in Shanghai, while Haichang Ocean Park Holdings Ltd will open China's largest marine park in the metropolis next year.
And Six Flags Entertainment Corporation will open a park on the mainland, its first outside North America in 2019.
Industry consultant Aecom forecasts that 59 more theme parks will open in China by 2020, serving 220 million park-goers annually.
That's roughly the current size of the entire US market. "After it has invested in training," said Darden's Weiss, Disney "might lose the talent to competitors".
Niu, the martial arts student turned pirate, said he's enjoying his crash course in show business, though his proud parents back in his home village in Henan province are a little puzzled by the career change. "In the village, we know characters like Snow White and the Seven Dwarfs, but you don't really know that they belong to a company called Disney," he said. Shanghai Disney is all about changing that.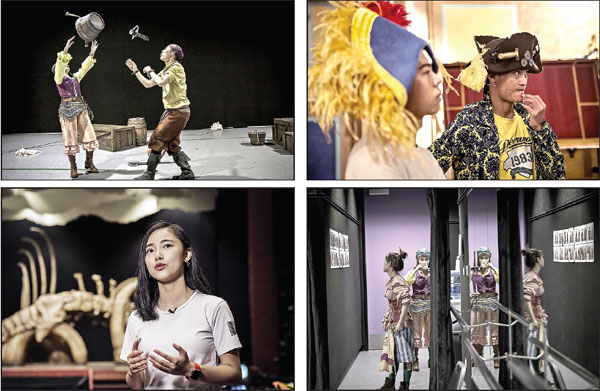 (Clockwise from top left) Performers throw a prop bucket and prop sword in the air during a rehearsal for a show at The Walt Disney Co's theme park in Shanghai.Performers wear hats during a rehearsal for the Eye of the Storm: Captain Jack's Stunt Spectacular show. Performers stand in a hallway during a rehearsal for a show. Performer Li Weiling said he will play Nala in the Mandarinversion of the Lion King musical. Bloomberg