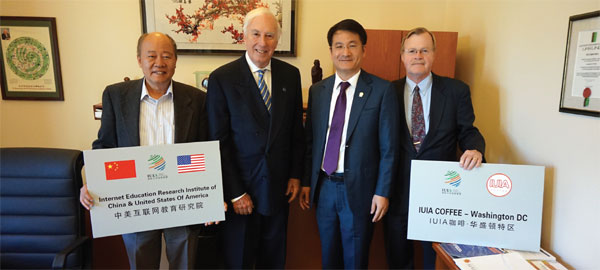 Sun Wansong (second from right), secretary general of IUIA, and C.D. Mote, Jr. (third from right), president of the National Academy of Engineering in Washington, pose for a photo after launching a new IUIA Start-up Cafe on Tuesday.
Since it opened in 2011, the study space in the building at the corner of West 120th Street and Broadway - where natural light shines through the floor-to-ceiling windows all day long - has been packed with Columbia University students.
It's the go-to place for coffee drinkers on campus. From 8 in the morning until 8 at night, students and professors flock in for a coffee break, chatting about their classes and new projects.
"Coffee brings people together," said Sun Wansong, secretary general of the International Universities Innovation Alliance (IUIA) that chose the building to become its first IUIA Start-up Cafe in New York.
Sun said IUIA will hold monthly events for students to mingle. More importantly, it will serve as "a platform for American start-up companies and young students with big ideas to pitch Chinese investors".
The IUIA itself has a Sino-US Innovative Cooperation Fund to invest in projects.
Pitches will be live-streamed or videotaped, and investors are welcome to come in. "We are going to set up 100 IUIA coffee points across the US," said Sun.
Co-founded in 2015 by a group of private companies and funds, the IUIA aims to form a full-service platform connecting international startups with Chinese investors.
"Many foreign startups are looking for investment, and they want to get into the Chinese market. Many Chinese investors are looking for good projects abroad. We are constructing a two-way highway for them," he said.
The IUIA has received support from multiple Chinese government agencies, including the China Investment and Promotion Agency of the Ministry of Commerce, China's Torch High Technology Industry Development Center of the Ministry of Science and Technology and Foreign Expert Bureau.
In the past year, the IUIA invested in the startup project "CZAR-POWER" founded by students from MIT, set up an IUIA scholarship at Duke University and launched an IUIA-UC Innovation and Entrepreneurship Center with the University of California-Berkeley Alumni Association in Beijing. It has also established partnerships in the UK, France, Singapore and Japan.
In China, the IUIA is partnered with funds, industrial parks, incubators, workspace and living space to facilitate the IUIA Sino-US Cross-Border Accelerator Plan, which helps foreign startup teams penetrate the Chinese market quickly and successfully.
The foreign team will be matched up with an accelerator in China that helps them understand and execute in the Chinese market.
"They will also need a place to live and an office, and that's why we partnered with UR WORK and China Young Professionals Apartments (CYPA)," said Sun. "Young entrepreneurs will immediately find housing and workspace. They will be able to further build their networks."
"We want more international young professionals to join us. They will make us a more diverse and international community that more Chinese talent would love to come to," said Gehong Wang, founder of CYPA.
During his latest trip to the US, Sun said that the IUIA was interested in helping promote the relationship between American states and Chinese provinces.
"With the highway we will build between the states and provinces, there will be a system in place," he said. "So the relationship between the two places is not dependent upon the relationship between the officials. It's more robust, and a change in government officials will not end the relationship."
On Monday, Sun attended the China Provinces-US State of New York Trade and Investment Cooperation Breakfast at the Waldorf Astoria New York hotel, where New York state and six Chinese provinces and municipalities signed a Memorandum of Understanding to expand cooperation in the sectors of clean technology, life sciences, advanced manufacturing, agriculture and food processing, financial services and communications and media services.
Sun said the IUIA wants to help promote state-province relationships with collaborations in life sciences and environment protection.
"There will be challenges, but it's our commonalities that bind us together. We have very similar goals," Sun said.
"The IUIA is a platform of dreams. There is the Chinese dream and there is the American dream. We want to use it to realize the dreams of young people and give them a chance to make those dreams come true."
hezijiang@chinadailyusa.com