Miami star recalls 'holy grail' moment from rookie season
Dwyane Wade will never forget his first meeting against Kobe Bryant.
Wade and the Miami Heat went to Los Angeles and got blown out in November 2003, the Lakers winning 99-77 and making it look every bit as easy as that score seemed.
It was the eighth game of Wade's professional career, and to say he was still figuring things out is an understatement.
But in the third quarter, something happened.
"It was so not a meaningful moment in basketball history at all," Wade recalled on Tuesday.
But it was obviously one for him to cherish. Finding himself guarding Bryant for the first time all night, Wade - who freely acknowledges he was nervous facing Bryant - got a steal.
Nearly 13 years later, he still savors that moment and will carry the thought into Wednesday night, when Miami visits the Lakers and Wade and Bryant could square off one final time.
"For me, that was it," Wade said. "That was the holy grail ... Inside, I felt so good. It didn't mean anything to him.
"They were up by 30 or 40 points. But to me it meant the world."
A friendship has blossomed in recent years - even though Wade broke Bryant's nose in the 2012 All-Star Game.
Wade was even one of the orchestrators of a tribute dinner for Bryant at this year's All-Star Game, part of the league-wide retirement celebration for the Lakers' star whose career is now in its final weeks.
If Bryant and Wade both play on Wednesday, it will be their 20th head-to-head meeting.
Wade - who, like Bryant, has worn only one professional uniform - and the Heat have an 11-8 edge in those matchups.
Bryant did not play when the Lakers visited Miami earlier this season.
As Bryant's career winds down, opposing players have taken to asking him for certain souvenirs, like jerseys or sneakers.
Wade will have a request as well for a memento from their final matchup - though he is not sure just what it will be.
"I'm trying to think of something different," Wade said. "I'm asking for something. It's crazy that it's our last time playing him and I'm asking for something."
If all else fails, he will still have that memory from 2003.
Chasing history
Golden State is 35-0 at home, and San Antonio is 37-0 at home. No team in NBA history has ever finished a home schedule unbeaten, the closest being Boston's 40-1 mark in the 1985-86 season.
The Warriors have three home games this week: Washington on Tuesday, Boston on Friday and Portland on Sunday.
The Warriors need to finish 7-2 to break Chicago's single-season record of 72 wins.
The Spurs host New Orleans on Wednesday and Toronto on Saturday.
Raining 3's
The NBA is on pace for more 3-pointers this season than ever before, with 20,000 3's already in play.
There were 17,603 in 2012-13, 19,054 in 2013-14 and 19,300 last season. The league is on pace for about 20,700 this season - which is more than the entire NBA made in the first 10 seasons of the 3-point shot, combined.
Stat of the week
Bryant's final visit to Salt Lake City turned into the worst loss of his career when the Utah Jazz stormed to a 123-75 victory on Monday night. The 48-point deficit also matched the most lopsided defeat in Lakers franchise history - a 142-94 loss to the LA Clippers on March 7, 2014.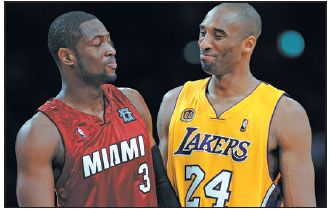 Dwayne Wade of the Miami Heat and Kobe Bryant of the LA Lakers exchange pleasantries in 2008. With Bryant set to retire after this season, the longtime friends will square off for the last time on Wednesday night in Los Angeles. Kevork Djansezian / Ap File