Italian chef from Naples brings a feast for the eyes to Shenzhen
Some appreciate art through sight, while others savor it through taste, says chef Stefano Nicodemo, who seems determined to have it both ways. In his first year at Paletto Italian restaurant in Shenzhen, Nicodemo has showcased seasonal flavors from the south of Italy with a lot of flair.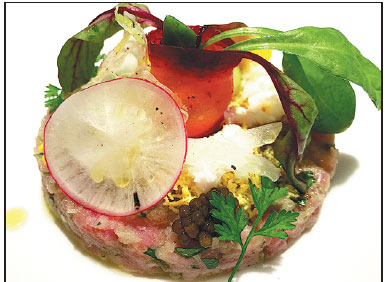 Tuna Tartare at Paletto Italian restaurant in Shenzhen. Mike Peters / China Daily
Fresh octopus, white truffle and porcini mushrooms have been stars in his signature dishes of his native Naples. The chef's modern approach favors dishes that are "light yet richly defined," he says.
"The visual presentation of food is the art of modifying, processing, arranging or decorating it to enhance its aesthetic appeal. I often take the simple classics I grew up with and adapt or modernize them."
His focus starts with healthy ingredients as well as preserving and maximizing their natural qualities and flavors.
"I often use low-temperature cooking techniques as a way to retain their inherent nutritional value," says Nicodemo.
At a recent lunch, we start by digging into an artfully crafted tuna tartare, a colorful round of flaky fish, capers, cooked egg white, cooked egg yolk, caviar and baby vegetables that gleams thanks to a light application of olive oil. Next comes risotto Milanese, with a golden glow thanks to 17 minutes of cooking in saffron water, and veal osso buco, cooked for three hours in a 140-degree oven. The meat is sauced with beef stock enriched with bone marrow and herbs, and topped with a scattering of rosemary, thyme and lemon zest; meanwhile, the risotto bears delicate hints of parmesan, onion and garlic.
Next came beef short ribs, marvelously tender after being marinaded for 24 hours in red wine, then vacuum-packed and slow-cooked in a 75-degree oven for 12 hours. The cooking juices are reduced then added to a demi-glace sauce for added richness. On the side is celeriac puree, shallot confit and asparagus. The meaty plate is served with a perfectly matched Promis 2012, a Tuscan red that "combines the elegance and suppleness of merlot and syrah with the austerity of sangiovese". It's touted as having an aging potential of five to eight years, but happily for us it's a treat to drink right now.
I'm surprised to learn that the restaurant's extensive wine list is 85 percent Italian.
"We're an award-winning Italian restaurant," says Nicodemo, who has been running Paletto's kitchen at the Ritz-Carlton Shenzhen for nearly one year. "So it's important to have a wine selection that reflects our food and our heritage." He concedes that many Chinese fine-dining customers look to Bordeaux first, but he doesn't mind the opportunity to steer his guests to the best vintages Italy can offer.
His food-and-beverage team is always ready to pair Italian wines with his signature dishes, from the black-ink risotto with marinated calamari and sea urchin to pumpkin gnocchi, veal, and parmesan cream with mushroom. Our dessert, Nicodemo's popular Chocolate Sphere, which melts in front of our eyes as the chef pours hot vanilla sauce over the hollow ball to reveal the fruits and nuts hidden inside, comes with a light, not-too-sweet moscato that lets the various flavors shine through.
The elegant dining room is the culinary heart of the resort-style hotel, which is located near the city's convention center and attracts a steady clientele of business executives.
"We are very close to Hong Kong, of course, so our standard of food and service has to be very competitive," Nicodemo says with a grin.
Contact the writer at @chinadaily.com.cn
michaelpeters@chinadaily.com.cn