Building foundation at St. Regis Tianjin
Martin Leclerc's first job in the hospitality industry was as a busboy in a Chinese restaurant in his home city of Quebec, Canada, clearing and setting tables and otherwise assisting the waiting staff.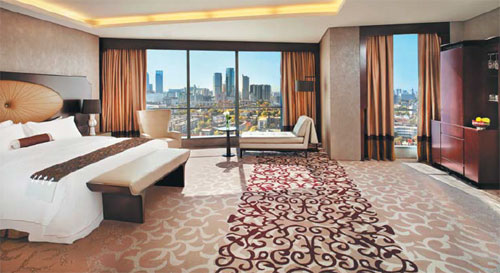 Suites at St. Regis Tianjin look across the adjacent river to the city beyond.  Photos provided to China Daily
Now aged 45 and the general manager of the luxury 5-star St. Regis Tianjin, Leclerc has never forgotten the value of all the supporting roles that add up to exceptional customer service.
Having worked his way up through the industry, first in food and beverage then moving to global operations before reaching the heights of management, he said, "it all boils down to making sure that we have a strong foundation".
To ensure that foundation, Leclerc personally interviews every person who applies for a position at St. Regis Tianjin.
"It doesn't matter if you come here to be the director of marketing or the financial controller or to wash dishes or join the housekeeping team, I want to sit down with you and I want you to understand that this is a luxury environment and you are on stage and you have a role to play. And that I appreciate that role, and I really count on you," he said.
Such attention to detail is obvious in all Leclerc does, whether he is adjusting the music volume in the lobby or welcoming guests by name, and asking after family and pets on return visits.
His career has taken him and his family - a wife who is an artist and three sons who are studying here in China - across Canada, managing some of the country's most prestigious landmark hotels. With his previous employer, the Fairmont Raffles hotel group, he then took on the opening of the Fairmont Nanjing in August 2012.
Leclerc had been to China earlier for several weeks, as part of an MBA project, "to study here and to travel, and to really get a good impression of what this country was all about".
"I just fell in love with it," he said. "When I returned, I told my family, 'We really have to be a part of this'."
He welcomed the opportunity to relocate to China, as did his entire family. His eldest son had graduated high school in Canada and the plan was for him to go to university in his home country.
"But he said, 'No, there's no way that I am going to miss out on coming to China'," Leclerc said, with obvious pride.
When his initial contract at the Fairmont Nanjing was over, and with no plans to return to North America so soon, Leclerc accepted the St. Regis Tianjin position, beginning in August 2014.
"St. Regis is a brand that is growing rapidly," he said.
"It's one of the 10 brands of the group, Starwood Hotels and Resorts. It's also the top brand, which suits me quite well, because I've always been in luxury hotels with the Fairmont Raffles hotel group, so it was a good transition for me."
The St. Regis brand is well-known for its butler service, from packing and unpacking suitcases, through waking a guest personally if that is preferred to an alarm clock or wake-up call, to a specially designed "butler safety box" for discreet pickup and delivery of items.
"We are also special, because in our St. Regis, there is no private lounge or executive club," Leclerc said. "We firmly believe that our customers are all rock stars and they should all be treated as very important. Every evening, we have a Happy Hour and all of our guests are invited."
It is such attention to special touches that keeps St. Regis Tianjin at the top of what Leclerc calls "the toughest hotel market in all of China", because of the city's oversupply of rooms. It is also such service that brings the hotel a "very high level of return guests".
The secret, he said, is to differentiate the property, rather than fight with other hotels solely on price.
tracyliannebarrett@chinadaily.com.cn