Kobe Bryant and LeBron James hugged and seemed to be in a world of their own.
One on one, despite the noise of 20,000 fans in the background.
The two superstars shared the same floor in Cleveland for the final time on Wednesday night as the Cavaliers, despite playing the second half without Kevin Love, downed the Los Angeles Lakers 120-111 in their last game before the All-Star break.
"It was just a lot of mutual respect," James said of the embrace. "Sometimes what is known doesn't need to be said."
Kyrie Irving scored a season-high 35 points and James added 29 for the Cavs.
Bryant finished with 17 points in his last performance in Cleveland, where many fans cheered his every move and fans serenaded him with "Ko-be" chants throughout the night.
For James, there has been no player of his era quite like Bryant.
"His competitive nature," James said when asked what he admires most about Bryant. "A lot of guys might be bigger, taller or jump higher, but it's something that's in you that gets you to that level."
Cleveland carried a 19-point lead into the fourth quarter, but struggled to put away the lowly Lakers.
Bryant converted a 4-point play and made three free throws to get Los Angeles within 108-100, but J.R. Smith and James made 3-pointers in the final three minutes.
The Cavs tastefully saluted Bryant during pregame introductions with a video presentation of some of his best moments.
Bryant watched the tribute on the arena's gigantic scoreboard before hearing his name and taking the floor with his teammates. He patted his chest in appreciation as Cleveland's crowd - dotted with fans wearing Bryant's purple-and-gold No 24 jersey - chanted his name.
"It felt great to play here so many years and get that type of reaction," Bryant said of the crowd's salute. "It was really special."
Bryant said there have great moments and some hard ones to handle during his league-wide farewell tour.
"That we stink, that's tough," he said. "But being able to say, 'thank you' to the fans, it's tough for me to express how I feel. It's hard to put into words how much I appreciate it."
Lakers rookie D'Angelo Russell got drilled in his groin area by a hard pass thrown by James in the fourth quarter. Russell dropped to the floor and stayed there for several moments before he walked gingerly to the bench, where Bryant was laughing.
"Once I knew he was OK, the jokes write themselves," Bryant said.
With 45 seconds left in the second quarter, Bryant's arm seemed to catch Love's shoulder when Love was backing him down on a shot in the post.
Love yelled in pain and headed for the bench, then walked immediately to the locker room with the left arm dangling.
It is the same shoulder Love had surgically repaired last spring after he dislocated it in a playoff series against the Boston Celtics.
After the game, Bryant said he and James have always had a better relationship than what was perceived.
"We've been close. We talk on the phone probably more than people know," Bryant said. "We talk about the game, we talk about different strategies that center around the game.
"We talk about different things off the court. Business related, players association related. We speak a lot. There is much more communication than people want to believe."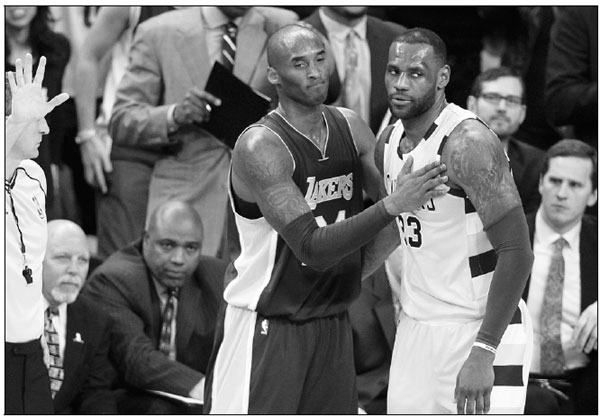 Kobe Bryant of the LA Lakers embraces Cleveland Cavaliers' LeBron James as the clock ticks down on the Cav'120-111 victory at Quicken Loans Arena in Cleveland on Wednesday. David Richard / USA Today Sports