Williams whips Radwanska to reach another Open final Down Under
Serena Williams is one win away from another Grand Slam milestone after beating Agnieszka Radwanska 6-0, 6-4 in an Australian Open semifinal that was almost a non-contest between the players who will be Nos 1 and 3 in the next women's rankings.
If Williams wins Saturday's final against No 7-seeded Angelique Kerber, she will equal Steffi Graf's Open era record of 22 Grand Slam singles title - the second-most behind Margaret Court's 24.
Williams is the overwhelming favorite, and not just based on recent form. She has won all six finals she has contested at Melbourne Park.
"I definitely block it out," Williams said to a question about equaling Graf's mark. "I was one off last year, too! If I don't win on Saturday, I'll still be one off."
Despite all her success, it is a loss that is inspiring Williams in this tournament. She was two matches away from a calendar-year grand slam in 2015 when she lost to Roberta Vinci in the US Open semifinals.
"Physically I'm feeling a lot better, mentally I needed that break after the Open," she said. "But I didn't think I would do this well this fast. I'm really excited to be in the final - it just kind of blows my mind right now."
Kerber ended Sydney-born British player Johanna Konta's surprising run with a 7-5, 6-2 win to reach her first Grand Slam final. Konta was the first British woman since 1983 to reach a major semifinal.
Kerber has one win in six matches against Williams - in 2012.
Graf was the last German player to win the women's title in Australia, in 1994, and Kerber is asking for some advice.
"So Steffi, write me please," she said, laughing with the crowd at Rod Laver Arena.
Williams' win over fourth-seeded Radwanska provided another yet reminder of her dominance in the game. She has won 39 of her past 40 Grand Slam matches across six major tournaments.
Williams said she was wary of playing a lefthander in this tournament, and Kerber fits that bill.
"She took out a really tough opponent in Victoria; you can't underestimate Kerber," said the world No 1. "She's beaten me before, too, and pretty good. I know that she brings a lot to the game."
The first set of the semifinals was over in 20 minutes, with Williams hitting 18 winners and Radwanska, in her fifth major semifinal, registering one.
The second set was closer, with Radwanska holding serve three times and breaking Serena's powerful serve once. But the 34-year-old Williams lifted again to finish it off, winning the last eight points and closing with three aces and a big forehand winner.
Williams remains unbeaten in nine matches against Radwanska, whom she beat in the 2012 Wimbledon final.
"She goes on court and she just wants to kill the ball ... full power for everything," Radwanska said. "She started unbelievable, with such a power and speed. I was just standing there kind of watching her play."
With the roof on Rod Laver Arena closed because of a thunderstorm closing in, the most obvious noise in the first set was the chirping of trapped birds who'd taken shelter in the stadium.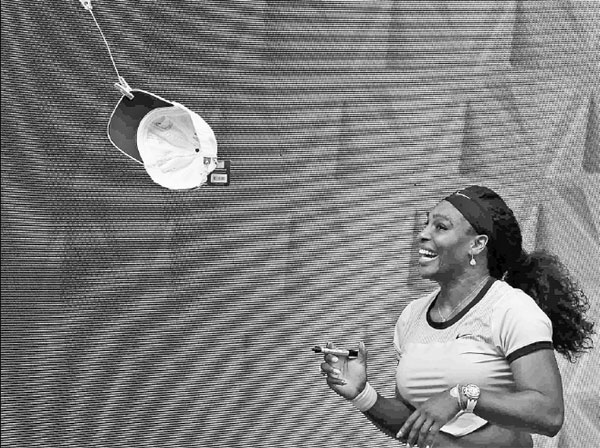 Serena Williams reacts as she signs autographs after winning her semifinal against Agnieszka Radwanska at the Australian Open at Melbourne Park on Thursday. Tyrone Siu / Reuters
'She's at a different level'
Serena Williams is playing tennis on another level compared to the rest of the women's field, according to Agnieszka Radwanska, who was routed 6-0, 6-4 by the world No 1 in their semifinal of the Australian Open on Thursday.
The 26-year-old Radwanska lost the first set in just 20 minutes at Rod Laver Arena before she got some momentum back in the second, but she was unable to stop Williams' march to her seventh final at Melbourne Park.
"She's at a different level ... she goes on court and just wants to kill the ball," Radwanska said after her 64-minute loss.
"There was just no mistake. Unbelievable serve. Everything, she was going for it. Yeah, I couldn't do much. Not at all, actually.
"I don't think anyone can really play on that kind of level at all."
Radwanska had been bidding to advance to her second Grand Slam final, after Wimbledon 2012, but once Williams broke in the first game the writing appeared to be on the wall.
Radwanska's fastest serve in the first game topped out at 140 kph. Williams, who blasted 42 winners in all, was sending it back at more than 130 kph.
"I think she started unbelievable, with such a power and speed. I was just standing there kind of watching her play," Radwanska said.
"When I was serving, everything is just going to your side with that kind of power, so deep that you cannot do anything."
The loss was Radwanska's second at the semifinal stage of the Australian Open, having also been hammered by Dominika Cibulkova 6-1 6-2 when a heavy favorite in 2014.