PepsiCo Inc and China Women's Development Foundation have donated more than 2,000 "Postal Parcel for Mothers" to poor mothers in Xishacheng Township in Zhangjiakou city, Hebei province.
The average per-capita income of local farmers in the area-where women account for 72 percent of the total population - was 3,720 yuan ($565) in 2014, with the majority living in what is officially rated as semi-poverty regions.
The parcels being given out contain various daily necessities as well as all-weather clothing.
PepsiCo has already joined forces with Tencent's charity platform to appeal for donations for mothers living in poor areas.
The parcel program was initiated by the US drinks giant and CWDF in 2012, and so far tens of thousands have been sent, worth some 2 million yuan.
PepsiCo's donations page on Tencent focuses on encouraging everyone to care for those less fortunate than themselves, particularly vulnerable mothers. People can donate through Wechat or directly online.
This year's donation efforts will go to helping those in Inner Mongolia autonomous region and Hebei, said Qin Guoying, CWDF's vice-chairman and secretary-general.
"As a long-term strategic partner of CWDF, PepsiCo has been providing a great contribution to China's public welfare undertakings by proactively providing full support to projects such as this one.
"We want to express our sincere gratitude and heartfelt appreciation to the company's philanthropic endeavors. Its executives, along with Pepsi celebrities, have brought great warmth to rural women in poverty-stricken areas.
"It is yet another strong statement from PepsiCo as a company of its high sense of social responsibility in advocating and fulfilling public welfare."
Katty Lam, chairwoman of PepsiCo GCR, said: "In accordance with its commitment to 'In China, For China, With China', PepsiCo has been actively giving back to communities where we operate while building a successful food and beverage business. PepsiCo associates all feel very gratified by being involved."
wangzhuoqiong@chinadaily.com.cn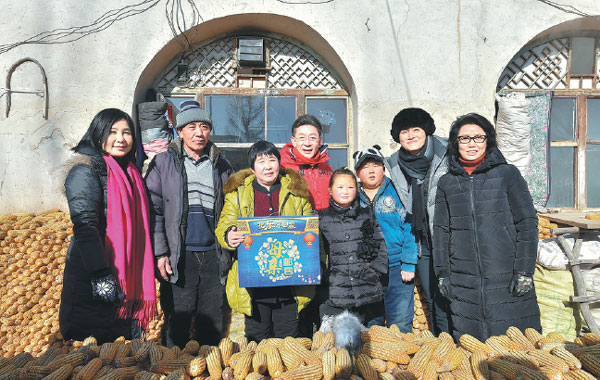 Officials from PepsiCo Greater China Region, China Women's Development Foundation and villagers from Xishacheng Township in Zhangjiakou city, Hebei province with a parcel for the "Postal Parcel for Mothers" project.Provided To China Daily