China's luxury industry is still feeling the impact of the country's economic slowdown and domestic consumers' growing interest in shopping overseas.
The industry contracted for the second consecutive year by 2 percent last year, with the total amount spent falling to 113 billion yuan ($17.2 billion), according to a report from consulting firm Bain & Co.
The decline was seen particularly in sales of menswear, watches and leather products, which were down by 12 percent, 10 percent and 5 percent.
The anti-graft campaign, launched in 2013, combined with the effects of the economic slowdown and stock market volatility in the second and third quarters, further propelled the market deceleration.
The survey, which polled 1,447 Chinese consumers, found the total amount they spent on luxury purchases overseas rose by 10 percent year-on-year in 2015.
Japan was the most popular destination, with consumers' luxury spending soaring by 251 percent. Consumption in the Republic of Korea and Europe rose by 33 percent and 31 percent, respectively, while consumption on the Chinese mainland fell by 2 percent.
Cross-border and overseas websites took 12 percent of the Chinese spending on luxury goods last year.
Bruno Lannes, partner and head of the consumer products, retail and luxury practice at Bain & Co Greater China, said increased accessibility and availability, such as localized Chinese websites of some overseas online platforms, had encouraged purchasing through cross-border e-commerce platforms.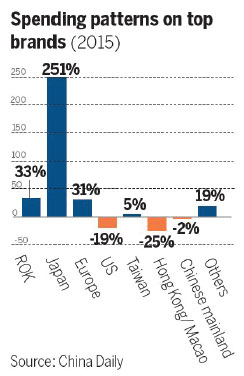 "We saw notable changes in where and how Chinese consumers acquired luxury goods last year. Buying overseas has been a trend for years, but destinations have changed, and daigou is declining because of multiple and converging drivers from major industry players, including the government," he said in a release about the report. Daigou are overseas shopping agents used by consumers in China.
Zhai Ruoyun, an administrative director at a Shanghai-based manufacturing company, used to rely heavily on daigou in recent years for clothes, cosmetics and home appliances. But she hardly used any of their services last year, preferring the Chinese versions offered by overseas platforms, saying these are "professional and much more reliable".
Iris Chan, head of client services at Digital Luxury Group in Shanghai, told China Daily that digital and e-commerce presence are not just supporting pieces to a brand's marketing efforts, but are integral pieces to their operations in China.
Sage Brennan, co-founder of China Luxury Advisors, said the report's findings are not surprising. "There's two big vectors here. One is anti-corruption, which has made it more difficult to sell things like high-end watches to officials or affluent folks," he said. "The other is the overall knowledge of brands, aside from luxury, has gotten much deeper-folks are not only looking at luxury brands but looking at lower-priced brands. Especially as they travel outside of China, they're looking for other brands."
The central government is attempting to localize consumption on the mainland, rolling out policies that include tightening customs controls on passengers and parcels, and reducing import duties.
Lannes said that luxury consumption in Hong Kong slumped by 25 percent last year due to a decline in visitors from the mainland, reduced spending and a less favorable currency exchange rate when compared to the ROK or Japan.
Christopher Bailey, CEO at Burberry, said sales in the company's Asia Pacific market picked up in the third quarter, excluding sluggish performances in Hong Kong and Macao.
As the number of visitors to Hong Kong continued to drop, the company's sales in the city fell by more than 20 percent in the third quarter. Apart from aggressive expansion by luxury brands Coach and Michael Kors, brick-and-mortar store closures by luxury companies outnumbered newly opened stores last year, with 58 stores closing.
Prada and Louis Vuitton announced late last year that they will be closing retail locations in China. Louis Vuitton will close up to eight stores, nearly one-fifth of its stores in China, most of them in second-tier cities. Chanel and watchmaker Patek Philippe both cut prices in China, and Prada executives said they will be doing similar.
Contact the writers at shijing@chinadaily.com.cn and amyhe@chinadailyusa.com