19 miners still missing in collapse
Nineteen miners remained missing on Friday night after a gypsum mine collapsed in the morning in Baotai, Pingyi county, Shandong province.
Two of the three mineshafts caved in, the Ministry of Public Security reported on its micro blog. More than 90 firefighters were dispatched to the site at 9:40 am.
Initially, 29 miners were trapped when the collapse occurred at 7:56 am, but 10 had been rescued as of press time.
Gypsum is a soft mineral composed of calcium sulfate that is widely used in industrial and construction materials.
The accident at the mine owned by Yurong Chemical and Trade Co was likely to have been caused by the collapse of a nearby, partially depleted branch of the mine, according to Xinhua News Agency, and had the force of a magnitude-4 earthquake.
Local railway authorities delayed eight trains to check the tracks near the site for faults were caused by the force of the collapse. "No faults were found in the rail lines, and train service resumed at noon," said HuKai of Jinan Railway Bureau.
Jiang Yikang, Party chief of Shandong, and Guo Shuqing, provincial governor, rushed to the site to guide rescue work.
The number of workplace and industrially related injuries in China remains large, but fatalities have been reduced by safety measures adopted in recent years.
Sunday's landslide in Shenzhen, Guangdong province, which was caused by a pileup of construction debris and earth, had claimed at least one life and left 75 missing as of Friday night. Last month, 22 miners died when a coal mine caught fire in Heilongjiang province.
Workplace accidents killed 66,000 people last year, Yang Dongliang, head of the State Administration of Work Safety, said in March. However, that number represented a nearly 53 percent decline from the number of workplace deaths in 2002, he said.
zhaoruixue@chinadaily.com.cn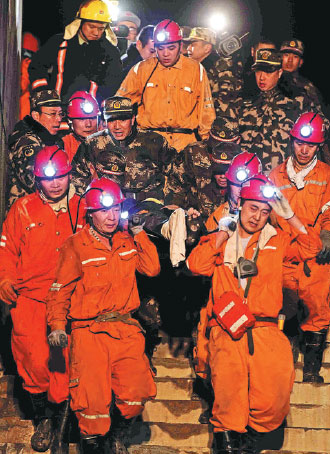 Rescuers remove a miner from the collapsed gypsum mine on Friday in Pingyi county, Shandong province. Nineteen miners remain missing. Guo Xulei / Xinhua