The audience that went to hear traditional Chinese music at the Kennedy Center on Dec 12 got a lot more than a sample of music spanning 2,000 years. The show was also a feast for the eyes, with novel lighting, striking multimedia sets and musicians delivering heartfelt monologues.
The Chinese National Traditional Orchestra, a 110-piece ensemble founded 55 years ago under the guidance of the late Chinese Premier Zhou Enlai, premiered its grand show entitled Rediscover Chinese Music at the Kennedy Center's opera house.
The concert reinterpreted some of the most representative works in the repertoire of traditional Chinese music, including High Mountain Flowing Water, A Moonlit Night on the Spring River, Silk Road, Ambush from Ten Sides and Spring Festival Overture, all in their original glory yet with a fresh take.
In Song of the Birds, delightful and distinctive bird chirps created an atmosphere of Spring with musicians in traditional Chinese robes standing in the aisles among the audience playing various instruments imitating bird calls.
"I did not expect our traditional music could be represented to reach such a fabulous effect. It's very impressive!" Chinese Ambassador to the US Cui Tiankai said after the show.
"I just saw that the American audiences who came to see the performance were also greatly impressed. We hope there will be more performances like this in order to inform the American citizens about Chinese culture, Chinese people, thousands years of civilization and the future we are building."
He called it great news to the Sino-US relations. "So I really want to thank our artists," Cui said.
"Rediscover Chinese Music is solidly grounded in Chinese traditional aesthetics," said Xi Qiang, president of the orchestra. "We inject new ideas into masterpieces, amplifying the soul and the power inherent in Chinese traditional music, thus infusing new life in our art."
Though all pieces of music in the program originated from ancient times in China, some modern spins were put on melodies and tempos, according to Jiang Ying, the orchestra's composer-in-residence.
The narratives and lyrics of each piece were projected on an overhead screen and translated into English so non-Chinese-speaking members of the audience could appreciate the themes of battle, friendship, hardship, nature and others.
"The amazing lighting made the show really impressive," said Tom Bishop, a 72-year-old in the audience. "I was mostly impressed by Ambush from Ten Sides."
The concert was part of the series Impression: Chinese Music, produced by Wang Chaoge, a Chinese director, who has done a number of iconic shows including The First Emperor, with music by Tan Dun and starring Placido Domingo at New York's Metropolitan Opera in 2006.
The orchestra will perform two shows in New York - at Lincoln Center on Dec 18 and Carnegie Hall on Dec 20 in New York.
Pan Jialiang contributed to the story.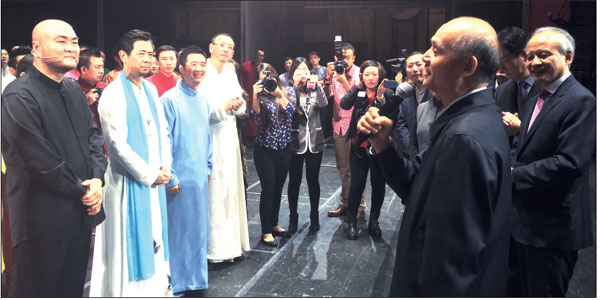 Play date
China's consul general in San Francisco Luo Linquan (second from right) invites CNTO to perform in California on their next tour to the US, while CNTO conductor Maestro Liu Sha (left) and musicians look on. Photos by Li Ge / China Daily