The state of Hawaii and the US Navy have more to offer their Chinese counterparts than the beautiful beaches and scenery, said Rear Admiral John Fuller, commander of Navy Region Hawaii, on receiving the visiting escort task force group from the Chinese Navy on Dec 13.
At 10 am, a 70-member group composed of US Navy officers, soldiers, Chinese diplomats and representatives from the local Chinese community cheered at a Pearl Harbor pier as the Chinese People's Liberation Army Navy (PLAN) Escort Task Group (ETG) 152 consisting of three ships with 800 crewmen onboard arrived.
Joining Fuller were Defense Attach Major General Xu Nanfeng from the Chinese Embassy in the US, Senior Captain He Bing, Captain Stanley Keeve and Captain Kevin Brand.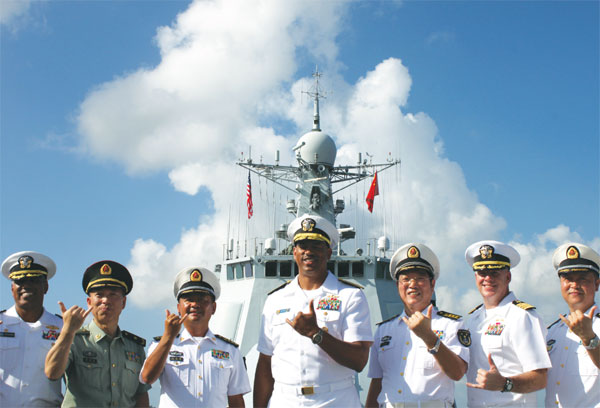 Chinese and US navy officers pose on Dec 13 in a "shaka" gesture, a Hawaiian way to say "hello", onboard the PLA Navy's Ji'nan flagship. From left: Captain Stanley Keeve; Defense Attach Major General Xu Nanfeng from the Chinese Embassy in the US; Commander Wang Jianxun; Political Commissar Ye Jianlin; Captain Kevin Brand; and Senior Captain He Bing. Chang Jun / China Daily
Commander Wang Jianxun and Political Commissar Ye Jianlin, of PLAN ETG 152, both received Hawaiian leis, traditional flower wreaths, as welcoming gifts, and hosted their American counterparts onboard their ships and watched a documentary detailing the fleet's voyages.
During their five-day visit, the officers and crew of the PLAN fleet will take part in exchange activities, including basketball, soccer and a tug-of-war, mostly with US Navy sailors.
ETG 152 set off from Zhoushan naval base, Zhejiang province, on April 3 to sail along the Gulf of Aden and the Somali coast, one of the roughest maritime areas and also the lifeline for Chinese economic development, and to safeguard transiting Chinese vessels and ships.
Consisting of a destroyer Ji'nan, also the flagship, the frigate Yiyang and the supply ship Qiandaohu, Fleet 152 also carries two ship-borne helicopters and 64 members of the special forces.
In the wake of constant domestic turbulence in Somalia and increasingly rampant hijackings and abductions of Chinese sailors, vessels and commodities, the Chinese government decided in December 2008 to send an escort task force to protect the country's overseas transport routes.
As of August, the PLA Navy had dispatched 21 escort task groups to the Gulf of Aden and Somali waters in the so-called "Operation Blue Shield" to protect Chinese civilians and property from looting by pirates.
In the Gulf of Aden, the Chinese Navy has encountered its US counterparts on similar escort missions, said Wang, adding that military exchanges between two navies were not rare.
"Actually, we are expecting more communications and collaborations between us along the way," said Wang.
Earlier on Nov 4, Wang had led the same fleet to pay a historic visit to the US Naval Station Mayport in Jacksonville, Florida. He described that visit as elevating the cooperation between the two navies from cross-Pacific to cross-Atlantic.
During the escort mission, the task group has implemented commanders meeting on the sea along their route, launched joint exercises and other forms of exchange and conducted military-civilian collaborations. These activities, said Wang, have improved intelligence sharing, and served well in PLAN's fighting against piracy and conducting escort missions more effectively.
Hailing PLAN's escort mission as "a great success", Fuller said frequent communications between the two militaries will help both learn from each other.
"The ships are clean and well-maintained even after such a long deployment at sea," he said.
Lieutenant Commander Creighton Ho from the Navy Region Hawaii said the onboard tours of the Ji'nan and Yiyang were impressive.
"I can feel there is a proud ownership from the commander, the officers and the sailors," he said, adding there were more future visits from the Chinese Navy are in store for 2016.
According to He Bing, PLAN's escort mission is carried out in line with relevant UN Security Council resolutions and regulations of international law. Vessels transiting the Gulf of Aden vary in a large number of types and quantities - bulk-cargo carriers, tankers, rolling ships and those with low freeboard and slow speed, said He, so the task group adopts mixed strategies of individual close company and onboard guard on demand to ensure the safety of individuals and commodities.
junechang@chinadailyusa.com