Arktek is expected to help solve a major health problem for less-developed parts of Africa
Aucma, one of China's largest refrigeration equipment suppliers, is planning to expand its business map to Africa. But the product it primarily want to promote is not a refrigerator, but a portable vaccines storage device called Arktek.
"This super-insulated device uses only ice - no propane, batteries, electricity, solar panels, or other power source at the point of use," says Ren Yizhao, chief product officer of Aucma.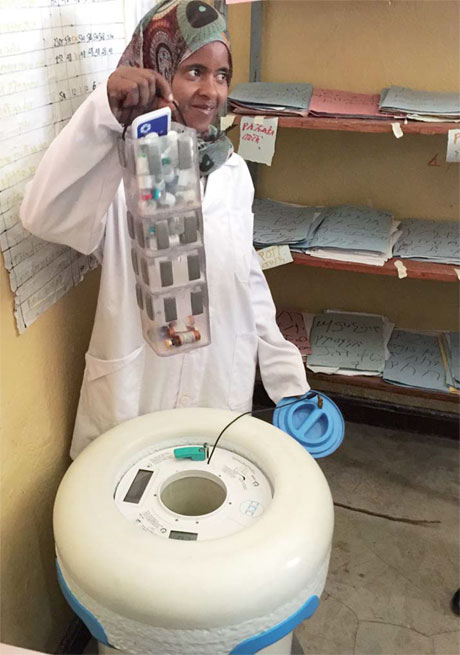 A medical worker shows the vaccines stored in the Arktek at a health post in Ethiopia. Photos Provided to China Daily
In basic terms, Arktek is a dumbbell-shaped barrel surrounded by eight ice blocks. It has excellent sealing performance that can maintain the inner temperature at 10 C or below for 50 to 60 days with an outside temperature of up to 43 C without extra energy support, the company says.
"The ice blocks need to be refrozen only every 50 days in a low-temperature refrigerator (of about -20 C), which is available at many local hospitals," Ren says. Arktek is capable of storing 5.4 liters of vaccines, which can meet the needs of a village of 6,000 people for a year, based on a birth rate of 24 percent, or 24 births per 1,000 people.
Moreover, the device, 52.5 centimeters long and 74.7 cm high, and weighing 26.5 kilograms, can be easily carried by donkeys - a popular means of conveyance in many African countries.
Most vaccine storage devices sold in the global market need both a stable power supply and well-trained technical staff for the maintenance of easily damaged parts, Ren says.
"Arktek overcomes two major obstacles for vaccine delivery in Africa unstable power supply and a lack of professionals for device maintenance," Ren says. "It doesn't have any components that can be easily damaged, and has a simple but effective design."
An estimated 1.5 million children under 5 years old die each year globally - one every 20 seconds - from illnesses such as diarrhea and pneumonia that often can be prevented with vaccines, according to the World Health Organization.
Despite immunization being one of the greatest success stories in modern medicine, one in five children worldwide remain unprotected, without access to even the most basic vaccines globally. Some of the biggest challenges come from difficulties in delivering interventions like vaccines.
"Especially in sub-Saharan Africa, the great challenges exist in vaccine delivery instead of purchasing," says Mark Suzman, president of the Bill & Melinda Gates Foundation's global policy, advocacy and country programs.
As one of the biggest private foundations supporting health development in Africa, the Bill & Melinda Gates Foundation has being working through their partners in more than 45 countries in Africa to provide over $600 million in grants across Africa last year alone.
In the past 15 years, the foundation has had some significant achievements, including having helped 7.3 million people access antiretroviral treatment for HIV/AIDS, tested and treated 12.3 million people for tuberculosis, and distributed 450 million mosquito nets to protect families against malaria.
Suzman says vaccines have to be kept under recommended storage conditions that guarantee their quality during production, storage, handling, transportation and use. Extensive measures are put in place to avoid exposure of the product to inappropriate temperatures. Almost all vaccines are licensed for storage and distribution within a temperature-controlled supply chain of between 2 C and 8 C, according to WHO.
However, keeping vaccines within this range is extremely difficult in countries with limited cold chain and ice pack production capacity, according to Robert Scherpbier, an official with the United Nations Children's Fund China Office.
"Immunization rates are lowest in rural areas, particularly in sub-Saharan Africa, where poor infrastructure and unreliable power means life-saving vaccines are often spoiled or out of stock," Scherpbier says.
Many a troubling story is told of a mother traveling with her young child for miles on foot, only to be turned away at a health post that has run out of vaccines, he says.
In recent years, the Gates Foundation had supported a number of Chinese products that show great potential for tackling development challenges in sub-Saharan Africa. Aucma is one of those Chinese companies that have received funds from the Gates Foundation.
In 2013, Aucma produced its first 30 Arkteks and tested them at several clinics in Africa, including Senegal, Ethiopia and Nigeria, without cost. At the beginning of the one-year test, Ren says, local people were curious about the device and couldn't believe it would work without a power supply.
"When our test ended in June last year, many local people tried to persuade us to leave the device with them. Thanks to Arktek, vaccination became available to the newborn living far from clinics. Doctors can take the device on a donkey and provide services to infants at their homes."
Early this year, Arktek gained WHO's prequalification for meeting global standards of quality, safety and efficacy. Three hundred devices have been sold in Nepal, India and Africa - with about 200 of them going to Africa. The devices currently are being sold to several international NGOs, and not to the public. Ren declined to give the price.
Arktek is one of China's innovations providing cheap but effective health solutions to African people in recent years. The ShangRing, a male circumcision device named after its Chinese inventor, is another made-in-China device expected to play a significant role in preventing HIV transmission, especially in Africa.
The device, consisting of two concentric rings, earned WHO prequalification in June. Clinical trials started in 2008 in Kenya, Uganda and Zambia showed that the ShangRing reduces the procedure time from 30 minutes before to about three to five minutes, with less bleeding and almost no infection after the surgery.
"The ShangRing's success in Africa will be a strong encouragement to Chinese innovation," says Shang Jianzhong, inventor of the device. "To me, this can also be called win-win cooperation. The idea was born in China, succeeded in Africa and will benefit the whole world."
yangwanli@chinadaily.com.cn