Let's not discount human touch next Nov 11
Festivals are about mingling with happy people, listening to music, enjoying each other's company
I had a punishing day's shopping recently. In less than an hour, I bought 12 liter-cartons of milk, the same number of boxes of breakfast cereal, 10 hairy crabs, a dozen pairs of socks, a couple of packs of turtle food, a replacement laptop power cable, and a 4-foot palm tree.
The next day it was all delivered straight to my door, neatly packed (including the palm), and alive and kicking in the case of the crustaceans.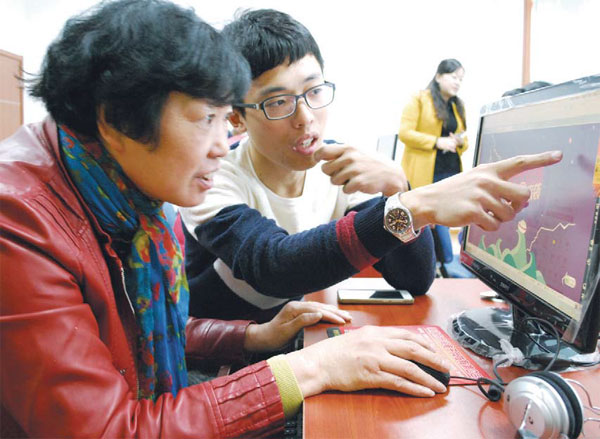 Customers from Zhenjiang, Jiangsu province, make online purchases on Nov 10, ahead of the shopping festival on Nov 11. Shi Yucheng / China Daily
Welcome to China's most efficient and expanding industry: Online shopping.
When I left Edinburgh, the above list might have meant a whole weekend of much blood, sweat and irritation. In Beijing, however, the opposites apply.
I am embarrassed to say, my list was all bought sitting in bed.
This is the ultimate in modern convenience and a gold mine for the delivery and retail sectors. But I can't help thinking it's becoming a killer for society.
Retailers across China will no doubt be toasting another bumper Nov 11 shopping festival. Alibaba reported that about 91.2 billion yuan ($14.3 billion; 13.3 billion euros) was spent on Nov 11. That was 60 percent higher than the 57.1 billion yuan it took on Nov 11 last year.
In my view, festivals are about mingling with happy people, listening to music, enjoying each other's company.
They're not about sitting boggled in front of a PC, laptop, tablet or mobile, essentially spending for the sake of spending. In just five years, Nov 11 has become commercialism on a vulgar scale - much like Christmas has in the West.
In Edinburgh, I lived in a part of town called Stockbridge. There's a 40-year-old cheese shop, a delicatessen, a hardware store, a French patisserie, a stationer, two small supermarkets, a butcher, a fresh-fish shop, even a chocolatier: All within striking distance of each other.
At the weekend, families stroll about with armfuls of real shopping bags, having conversations with real neighbors, actually interacting with their fellow Edinburgers.
I fully appreciate not everyone has this luxury of such quirky shop windows on their doorsteps.
Being able to source thousands of online goods, conveniently from home, is amazing and impressive.
But have we all become just too used to clicking a mouse than using our own two feet to go out for a nice piece of old-fashioned retail therapy?
I feel we've already got to the point that choosing this rather slothful keyboard opinion is a breeding ground for a more sedentary and unsociable society.
Over the past couple of weeks, there have been a plethora of Back to the Future predictions about what to expect in the next 30 years as cinema fans reminisced about the 1985 movie of the same name.
A pick of the best revealed some fantastic ideas - but much like Internet shopping, too many pointed at ever-reducing levels of face-to-face interaction.
For instance, some predicted a likely surge in online learning, which they argued could lead to universities closing around the world in huge numbers. A social rite of passage for millions may soon be confined simply to online learning.
A survey suggested a tenth of the world's wealthiest companies could be virtual corporations within 10 to 15 years - so what might happen to the simple activity of going to work and talking with colleagues?
And what about actual shops? Already, millions are being shuttered around the world. And those that do survive, may very well be run by artificially intelligent shop assistant applications or robots - not much chat over the counter in those.
With all these conveniences, the need to walk to a market of any sort, pick an item and walk home has become infrequent.
Has it already become too tempting to just order the item online and wait for it to arrive?
Indoors, too, all-purpose robots are already doing the housework. Sensors in future could also obviate other chores, with your fridge and cupboards programmed to place orders for you.
I rather like not having my life ruled by electronics - specially those I can't look in the eye, or say hello to.
So, instead of Nov 11, 2016, how about "Get Off Your Posterior, and Go and Do Something for Yourself" day.
Contact the writer at nicholas@chinadaily.com.cn