When it comes to raising pets on the Chinese mainland, residents in Guangdong province lead the way.
They have the most pets of any province, owning more than 10 percent of the 100 million registered nationwide, according to a survey.
An average of one in every 13 people on the mainland has a pet, with dogs and cats accounting for about 80 percent of the total, although the number of tortoise owners has risen swiftly in recent years.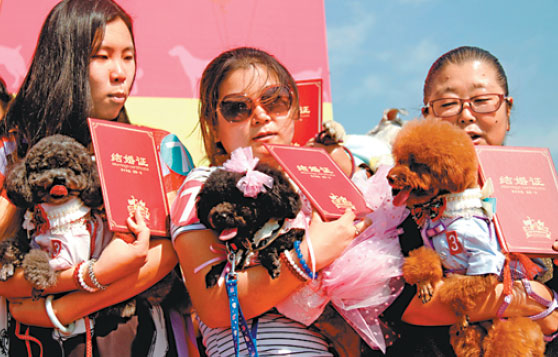 Pet owners attend amass wedding ceremony for their animals in Nanjing, Jiangsu province, on Sunday. "Marriage certificates" were given to the owners on the pets' behalf. Dong Jinlin / For China Daily
Guangdong is followed in the pet popularity stakes by Jiangsu and Zhejiang provinces, Shanghai, Beijing and Shandong province, according to a survey by Zhongjinqixin, an international information consultancy in Beijing.
Wang Ning, an executive in charge of the Survey Department at Zhongjinqixin, said the number of pets owned in China is expected to continue growing by at least 10 percent annually in coming years.
"With rapid growth in the living standards of Chinese people, more and more will choose to raise pets," Wang said.
"Many hospitals and beauty parlors for pets have been built nationwide and this will further encourage residents to raise them."
He Yinjin, a senior executive at Guangzhou Youpet Network Scientific Co Ltd, said the number of pets owned on the mainland will increase rapidly in coming years.
He's company will open new centers in Guangzhou and Shenzhen before the end of the year.
"In addition to pet hospitals and beauty parlors, the centers will provide pet training," He told China Daily. "And more centers will open nationwide in the future."
Nearly 62 percent of pet owners on the mainland raise dogs, more than 19 percent raise cats and more than 6 percent have tortoises at home.
Other popular pets include fish, rabbits, birds and rodents.
A Guangzhou resident surnamed Li, who has been caring for two tortoises for the past three years, said, "Many residents are now raising tortoises as pets at home, as tortoises indicate longevity in the minds of Chinese."
The survey found that 11 percent of Chinese families spend more than 10,000 yuan ($1,574) a year on pet care, while about 32 percent of families spend between 1,000 and 3,000 yuan annually on their pets.
Industry insiders have forecast that the mainland pet industry's revenue will be more than 15 billion yuan this year.
The survey found that 6 percent of pet owners are younger than 25, 37 percent are aged between 25 and 30, 24 percent are between 31 and 35 and 18 percent are between 36 and 45.
zhengcaixiong@chinadaily.com.cn