Nation's growth rate tops major economies, and comes with stable employment and moderate inflation
Many outside China believe the country's economic slowdown is to blame for the recent drastic fluctuations in global stocks, foreign currency and commodity markets. They also think that the prospects of the world's second-largest economy are gloomy.
But the fact is the increasing downward pressure on China's economy is a result of slow growth in domestic demand, which, in turn, is a result of the country's structural adjustment and weakening external demand. Also, the outflow of capital from emerging economies and depreciation of their currencies owing to expectations of an interest rate hike in the United States have added to global financial turbulence.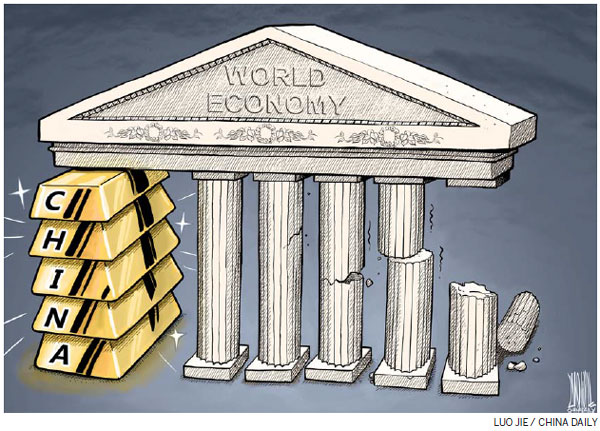 Because of the structural adjustment, China's economic growth (about 7 percent) is expected to be slower than in past decades. The change in China's demographics - such as declining working-age population, decreasing domestic savings ratio, and weakening capital accumulation and exports - have slowed the national economy. But in 2014, China's GDP increased to $10.4 trillion, up $800 billion from 2013.
Global experience tells us that the marginal growth of an economy as large as China's will decline to some extent after a certain period. In this sense, China's slower growth conforms to the law of economic development. Not only do the Chinese people, enterprises and governments at all levels have to live with this trend, but also the international community has to understand and adapt to this change because China's economy cannot maintain fast-paced growth forever.
However, a stable employment rate, moderate rise in the consumer price index and a growth rate higher than that of the other major economies of the world mean China remains an important engine of the world economy.
Despite the slowdown in its manufacturing industries in the first half of this year, some new areas of manufacturing, such as robots, electric vehicles, servers, smart terminals and locomotives, have experienced fast growth. In particular, a booming financial sector and the fast-growing courier industry made good contributions to China's economy in the first few months of this year. Unfolding are the positive effects of the continuous cuts in deposit reserve requirements and interest rates, increased fiscal spending, tax reductions and the launching of a series of major investment and consumption projects, and they will help China regain its stable economic momentum and reach its 7 percent growth target for 2015.
Despite the economic slowdown, China still contributed more than 30 percent to world economic growth in 2014. The 7 percent growth, although the slowest in decades, is still the fastest among the world's major economies. And because of its enormous economic base, even a 7 percent growth will result in a huge increase that will maintain China's position as an economic powerhouse.
China's ongoing efforts to further open up to the outside world, ease restrictions on the entry of foreign capital, expedite the formation of bilateral and multilateral free trade areas and, in particular, its push for the Belt and Road Initiative will deepen its economic links with the world. And it will still be a major driver of global economic growth.
On another level, China's slowdown will have a considerable impact on resources-exporting countries highly dependent on its market. But China has seen only a limited decline in commodity imports in recent months.
China's crude oil imports increased 9.8 percent in the January-August period, up 1.4 percentage points year-on-year. And its cereal imports increased 84.6 percent in the same period.
The main reason for the considerable decline in China's imports from the statistical point of view is the fall of import prices. Taking the price factor into consideration, China's actual imports fell only about 4 percent in the first eight months.
The author is a researcher with the State Information Center. The views do not necessarily reflect those of China Daily.