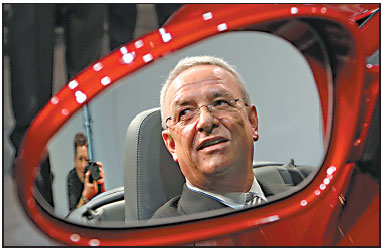 The image of Martin Winterkorn, Volkswagen AG's former chief executive officer, is seen in a mirror after the company's annual news conference in Stuttgart, Germany.Michaela Rehle / Reuters
Carmaker may find the going tough in China after pollution-cheating scandal
German auto giant Volkswagen AG, which is involved in a pollution-cheating scandal in the United States, may face a tough battle to retain its brand image and sales record in China, its biggest global market.
Volkswagen said on Tuesday that 11 million diesel vehicles worldwide are involved in the scandal of rigging US car emission tests. In a related development, the company's chief executive officer Martin Winterkorn announced his resignation on Wednesday.
Volkswagen Group China said it has no further comments on the issue, and its joint venture FAW-Volkswagen said on Thursday that vehicles it produces and sells have no such problems.
Industry experts said the scandal will severely dent the company's brand image among Chinese consumers, although the sales of such vehicles are negligible in China.
"Its reputation will suffer and the tarnished image will lead to more sales slumps," said Yale Zhang, managing director of Automotive Foresight, a consultancy headquartered in Shanghai.
"To make matters worse, the scandal comes at a time when Volkswagen's sales are already falling in China."
Volkswagen's sales in China during the first six months of the year dropped 5.6 percent year-on-year to 1.74 million units. In 2014, its sales had surged by 12.4 percent in the country.
China has been the German carmaker's biggest market since 2009 and now accounts for more than one-third of its global sales.
John Zeng, managing director of consulting firm LMC Automotive in Shanghai, echoed Zhang's view, saying that the scandal will strike "a major blow" to the German brand's reputation in the Chinese market.
"It will be a big challenge for Volkswagen to restore its already somewhat tarnished brand image," Zeng said.
Two weeks back, the General Administration of Quality Supervision, Inspection and Quarantine urged Volkswagen's joint venture with FAW Group to speed up recall of the new Sagitar cars due to potential rear suspension problems, after a one-year assessment.
The German automaker has revealed plans to invest 22 billion euros ($25 billion) between 2015 and 2019 in China to consolidate its pole position in the country.
Volkswagen China did not comment on whether there would be any changes to the investment plan.
Zhang, however, said the company may scale up investment plans and speed up new model launches in China to offset declines in other markets.
An official at the AQSIQ told China Daily on Thursday that it "is studying the details" about the Volkswagen scandal in the US.
The Ministry of Environmental Protection said it had no comments on the matter on Wednesday.
Many Volkswagen customers in China, however, expressed their indignation.
Li Hanchen, a 40-year-old owner of a previous-generation Sagitar, said he was "really shocked" by Volkswagen's move.
Li, who lives in Beijing, said: "It is a shame for Volkswagen. I hope it does not cheat in China."
Contact the writers at gongzhengzheng@chinadaily.com.cn and lifusheng@chinadaily.com.cn