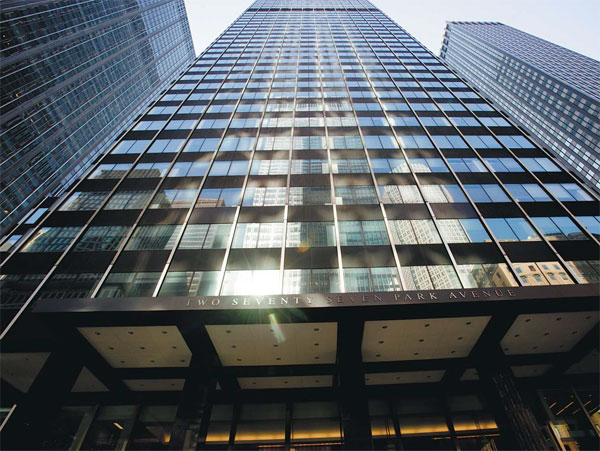 The Agricultural Bank of China's branch in New York is located on Park Avenue. Provided to China Daily
Since launching at the time the world's largest initial public offering in 2010, the Agricultural Bank of China, one of China's four major State-held commercial banks, has maintained its rapid but stable growth.
The bank's total assets reached nearly 16 trillion yuan ($2.57 trillion) by the end of last year. It earned nearly 180 billion yuan in net profit in 2014, an increase of 8 percent year-on-year.
ABC ranked ninth on The Banker magazine's list of global top 1,000 banks in 2014 and was listed as one of the world's most systemically important banks, the third Chinese bank to win the honor after the Bank of China and the Industrial Commercial Bank of China.
With a diversified business portfolio, a wide distribution network and advanced technology platforms, the bank offers a multitude of financial services ranging from corporate and retail banking to investment, fund management, financial leasing and life insurance.
ABC is also making inroads into financial innovations and exploring new business opportunities to meet the growing demand for mobile finance and e-commerce services, its executives said.
At the same time, the bank has improved cross-border financial services and profitability by implementing its strategy of international development in recent years.
While ABC is advancing the international development strategy, it has developed a widespread overseas outlet network that covers Asia, Europe, North America and Oceania.
The bank established its New York branch in August 2012 to help develop the markets in the Americas.
Since its establishment, the branch aims to be ABC's business center in the Americas and serves as a platform for a variety of services, from financial institution marketing, big corporate marketing, and US dollars clearing to 24-hour trading, US dollar funding and senior management training.
The branch currently has assets of over $10 billion, with a product lineup including corporate deposits and loans, trade financing, financial markets and investment, and US dollar liquidation. It has also forged partnerships with a group of Chinese and US Fortune 500 companies.
After establishing ties with more than 20 Fortune 500 companies and top US-invested corporations, the New York branch is better positioned in the US mainstream market.
As it expands its client base, the bank is placing a stronger emphasis on the New York financial landscape through a growing product portfolio, such as syndicated loans.
In addition to focusing on New York markets, the branch is actively promoting exchanges between Chinese and US companies. It extends support to Chinese companies, whether large State-owned companies or private businesses, involved in mergers and acquisitions and also helps US investors establish offices in China.
The branch also provides its Chinese clients with financial solutions for their M&A projects in the US.
To date, the branch has provided Chinese companies more than $5 billion in overseas special loans or financing platforms. It has offered domestic players corporate financial products worth nearly $1.5 billion to help them settle their debts in multiple currencies.
Both agricultural powerhouses, China and the US are major trade partners of each other. ABC, as its name indicates, supports farmers, agricultural industries and the development of rural areas. It has a wealth of expertise in agriculture and has a strong customer base in the sector.
With such an edge, ABC's New York branch recently enhanced cooperative ties with international agricultural giants to promote bilateral trade in agro-products and agricultural resources development.
The bank has worked to bring in more customers and widened its marketing channels by targeting the Chinese headquarters of multinationals.
In 2013, the branch issued the Yankee Certificate of Deposit shortly after opening in New York. It issued a commercial paper in 2014, the first among Chinese-funded banks in the city. Earlier this year, it also issued $1.25 billion in medium-term notes.
haonan@chinadaily.com.cn