Changing public attitudes toward animal welfare are driving demand for funeral services for family pets, but many companies in the sector are complaining that business is being hampered by a lack of official recognition. Wang Xin and Cang Wei report from Nanjing.
'When I saw her lying peacefully in the coffin, surrounded by flower petals, it looked as though she had just fallen asleep and would wake up again," said Li Chongjian, recalling the memorial service she held for her pet dog in Shanghai.
"Mao Tuan ("Furry Ball") died suddenly of heart disease after spending 12 years with our family. A decent memorial service was necessary to allow us to cherish her memory and get over our grief," Li said.
Following the memorial service and cremation in late August, the 62-year-old retiree paid the company that organized the event an extra 20,000 yuan ($3,140) to compact her dead pet's ashes into a diamond that was later set in a ring.
"This way, Mao Tuan doesn't stop living with us," she said. "She just exists in a different form."
At about the same time as Mao Tuan's service, the funeral of another dog in Shanghai made national headlines because of its unusual formality and extravagance. Employees of the organizer, Shiyou Pet Memorial Service Co, dressed in formal undertakers' suits and wore white gloves as they carried the undersized coffin along the route of the dog's daily walk, before placing it in an expensive "hearse", an Audi A8L sedan. After a cremation service that featured flowers and music, the dog's ashes were sent to a Buddhist temple where monks held a ceremony to "expiate the sins of the dead".
The owner, who would only give her surname as Wang, said her family was overwhelmed by grief when the beloved pet died. "I can't fall asleep these days without hearing the sound she made at night," she said. "She was a family member and we loved her so much. I'll never have another dog after experiencing this devastating pain."
Zhou Jinxia, manager of the pet burial service Shiyou, which means "friend of the Buddha", said every creature, human or animal, deserves a peaceful and dignified exit from this world.
The company provides bereaved owners with a range of services, including applying makeup to dead pets, providing small, tailor-made coffins and arranging memorial ceremonies in accordance with the family's wishes. The price varies from 200 yuan to 9,000, but if a client wants to turn their pet's ashes into a diamond, the cost rises to between 7,000 yuan and 30,000.
A guilty secret
"Pets bring happiness and comfort to families," Zhou said. "Their bodies can't simply be dumped in a trash can or buried in a shallow grave. Unfortunately, those are the most common ways many Chinese deal with the bodies of their pets. A lot of people in China still think it's insane to cremate animals, while many people in foreign countries think it's insane not to," he added.
"We used to advertise our services and phone number on the hearse, but we had to stop after several clients protested, saying they didn't want their neighbors and other people to know they were holding a memorial service for their pets. They didn't want it to become a hot topic among their neighbors," he said.
Local antipathy has forced Shiyou to move premises several times after residents expressed displeasure at finding a funeral parlor for pets in their neighborhoods.
"Many Chinese people are still very superstitious about death and don't want a funeral parlor nearby," Zhou said. "Every company offering pet memorial services in China has experienced the same things-protests from the locals, the sudden termination of office contracts and difficulty finding places to build new incinerator plants."
Tang Wenhao, manager of Nanjing Haichang Harmless Treatment Co, which provides environmentally friendly disposal of dead animals, said Nanjing's first pet cemetery was forced to close in April, even though it had only been operating in the Jiangning district for about a month.
"The local land and resources authorities, along with the environmental protection and urban management departments, ordered the company to apply for official approval to use the land as a cemetery and for a nearby incineration plant. It proved impossible to obtain permission," he said.
"I've applied for approval from the local environmental protection authorities, but they said they are unable to process our application unless the Development and Reform Commission registers the pet incineration plant. However, the commission won't register it because the service we offer - pet cremation-doesn't exist according to the law," he added.
"I can't get permission from the land and resources department, either. It's not realistic in China to use land for pet cemeteries because cemeteries for humans are already in short supply," he said.
Legal lacuna
Su Decheng, director of the Law Enforcement Monitoring Unit at the Jiangning District land and resources bureau, said Chinese law doesn't provide for the establishment of pet cemeteries.
"Just like cemeteries for humans, those for pets must be approved by the government before the operators can acquire the land. Pet cemeteries won't be approved, though," he said.
According to Nanjing Ai-Bi Pet Co, one of China's largest pet hospital chains, very few people choose to cremate their pets and keep the ashes. About 30 percent of owners choose to bury their pets in deep holes, while another 30 percent ask hospitals to incinerate the bodies along with medical waste. The remainder simply dumps the bodies when and where they can.
Du Wanxin, a researcher with the Animal Disease Control and Prevention Center in Luoyang, Henan province, said burying or dumping bodies may spread viral diseases such as distemper, which can remain active even after several years underground.
"Some viruses can live in the bones after the flesh decomposes," Du said. "The animals must be buried at least two meters deep, and the holes should be filled with lime. They must also be disinfected with lime if an accelerant has been used to cremate the bodies. Burial sites must be located far from water sources, communities and traffic arteries."
In 2013, there were 120 million registered pets in China, a ninefold rise from 2003, and pet industry sales exceeded 90 billion yuan, according to China Central Television.
The Nanjing Agriculture Commission said there are 51 pet hospitals in the city's downtown and three new facilities open every year. About 32,000 dogs have been registered, but large numbers of dogs and other pets remain unlisted, and about 1,600 dogs die every year.
Adapt and develop
Lu Wanshan, director of the commission's Veterinary Services Department, said the government should encourage the industry to develop by adapting to owners' needs.
"The pet memorial industry can contribute to the harmless disposal of animal remains," he said. "Pets are now important members of many Chinese families, especially in urban areas. The government should fully legitimize the industry and supervise planning and land use, and establish a mechanism to protect the environment."
Shiyou's Zhou urged the government to allow private companies to become more involved in the disposal of dead pets. "To be frank, the official facilities are just like waste-incineration stations. Private companies, such as ours, can provide a wide range of services and treat the animals with more dignity. If we are allowed to enter the sector, we will create jobs, contribute taxes and import advanced incineration equipment," he said.
The 36-year-old entrepreneur, who quit his job at a large State-owned company to start Shiyou, has high hopes for the future. "When I founded the company in 2011, I only had one client a week, but now I get phone calls from clients every day. Some people even visit me in Shanghai from Xi'an (in Shaanxi province), about 1,500 kilometers away," he said.
"China's pet memorial service industry lags far behind those in other countries, such as Britain and Thailand, but those shortcomings provide opportunities for people entering the industry to develop rapidly," he said, adding that pet cremation, memorial services and cemeteries are available in Japan, where many temples provide exclusive services for dead pets.
"I believe the Chinese market could be huge because the country is becoming more open and people are paying greater attention to animal welfare," he said. "Attitudes toward animals reflect the social conscience of a nation, and Chinese society is becoming better and better."
Contact the writers at cangwei@chinadaily.com.cn and wangxin@chinadaily.com.cn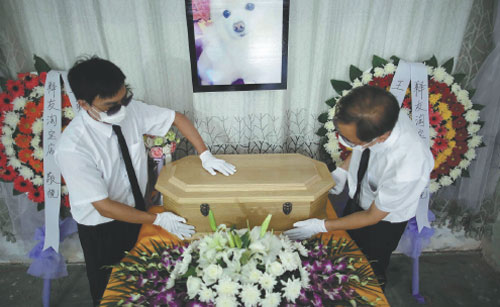 Employees of a pet burial service, dressed in formal undertakers' suits and wearing white gloves, place the undersized coffin of a pet dog in a mourning hall in Shanghai. The company provides bereaved owners with a range of services, including applying makeup to dead pets and arranging memorial ceremonies in accordance with the family's wishes. Photo Provided to China Daily